Uncle Shawn and Bill Book Two by A. L. Kennedy – Book Review
Uncle Shawn and Bill Book Two by A. L. Kennedy – Book Review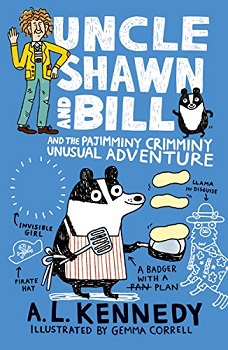 Uncle Shawn and Bill
and the Pajimminy-Crimminy Unusual Adventure
Author – A. L. Kennedy
Publisher – Walker Books
Pages – 272
Released – 5th April 2018
ISBN-13 – 978-1406360509
Format – ebook, paperback, hardcover, audio
Reviewer – Stacey
Rating – 4 Stars
I received a free copy of this book.
This post contains affiliate links.
Badger Bill loves his best friend Uncle Shawn. But he has started to notice that Uncle Shawn is a bit unusual.
Dr P'Klawz hates Uncle Shawn. He has also noticed that Uncle Shawn is a bit unusual – pajimminy crimminy unusual, in fact.
It looks like Badger Bill is going to need a plan, or Uncle Shawn might be sent to the Institution for Maximum Security and Unusualness Curing for ever. But all Bill has to help him are four bickering llamas, one pirate boy and one invisible girl. What could possibly go wrong?
Uncle Shawn and Badger Bill are back in their second full-length novel that is full of laugh-out-loud moments. The Llamas are back this time too. You can read about their first adventure in our review – Uncle Shawn and Bill and the Almost Entirely Unplanned Adventure.
There's someone prowling around the town and he doesn't like things that are unusual. Evil Dr P'Klawz has been going around town putting up posters asking people to report things of unusualness. He pops up everywhere and is watching everyone. You might think that Llamas are a bit unusual, especially ones that eat jam out of the jar, or that a talking Badger is unusual.
However, the evil doctor has his sights firmly set on Uncle Shawn.
If you have not read the first book and this one works well as a standalone, you won't know that it was Uncle Shawn doing the rescuing, now in the second book he's the one that needs rescuing. I love how A. L. Kennedy has gone full circle.
The chapters are quite short and like in the first book they give you information at the start as to what will happen in that section. Throughout there are also comic book style black and white illustrations that make this humorous book even funnier.
For children who like silly stories that will give them the giggles this book is perfect. It's full of wacky moments but with the message about the powers of friendship running throughout. It's a lovely book that I am sure will keep children engaged and interested from start to finish.
Book Reviewer – Stacey
---
Purchase online from:
---
The above links are affiliate links. I receive a very small percentage from each item you purchase via these link, which is at no extra cost to you. If you are thinking about purchasing the book, please think about using one of the links. All money received goes back into the blog and helps to keep it running. Thank you.
Blog posts straight to email via Bloglovin – Like us on Facebook – Follow us on Twitter