The Innocent Wife by Amy Lloyd – Book Review
The Innocent Wife by Amy Lloyd – Book Review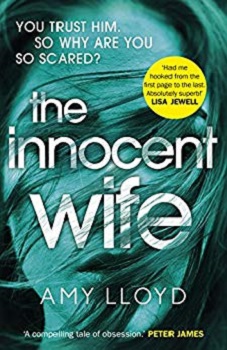 The Innocent Wife
Author – Amy Lloyd
Publisher – Arrow
Pages – 400
Released – 4th October 2018
ISBN-13 – 978-1784757106
Format – ebook, paperback, hardcover, audio
Reviewer – Stacey
Rating – 3.5 Stars
I received a free copy of this book.
This post contains affiliate links.
You're in love with a man on Death Row in Florida, convicted of a brutal murder twenty years ago.
You're convinced he didn't do it, and you're determined to prove it. You're part of a mass online campaign that picks holes in the case, uncovers evidence of police incompetence, and agitates for this miscarriage of justice to be overturned.
Now you're married to him, and he's a free man, his conviction thrown out. You have the rest of your lives to spend together.
You're overjoyed. After all, he's innocent.
Isn't he?

School teacher Samantha lives in England and becomes obsessed with a man she has never met via a TV documentary. The documentary features death row prisoner Dennis Danson who has spent the last twenty years behind bars for the brutal murder of a teenager when he was just eighteen-years-old.
The documentary looks at the case, new evidence and whether Dennis could, in fact, be innocent. Could he have been wrongly convicted?
Sam begins to write to Dennis and then travels from her home to Florida where she sets about meeting him. Soon they began having a relationship and she becomes his wife. The documentary serves it's purpose and Dennis is freed. However, Sam discovers her own evidence that could mean that she was wrong and that Dennis really was the killer. He's also not the man she thought he would be. But what can you do when you are possibly married to a murderer?
The book reminded me of the Netflix series Making a Murderer and the new Ted Bundy Files. As a nation, we seem to have become obsessed with murderers as their lives and reasoning intrigue us and we try to understand the psychology behind such gruesome acts.
The book is quite a slow burner and though it moves at a steady pace, that pace is about as fast as a snail. The plot though was certainly intriguing. Men like Dennis are predators to women like Sam. She is shy and meek and is smitten that he has taken notice of her. She believes that he loves her and wants her. Dennis, however, is the kind of man that women in domestic violence relationships live with. The kind that is nice on the outside to others and a perfect gentleman but behind closed doors it's like a monster has taken over and you can see the evil in their eyes.
There are some strange and very weird moments in the book that do make you think 'really?' Would that really happen in real life? There were also times when I felt like there were passages of information I didn't need to know, they didn't add anything to the plot.
That being said I did find myself engrossed in the story and 3/4 the way through the pace quickens and we have an action-packed ending which for some might come as a shock but unfortunately I saw it coming. Though it did feel a little rushed and I it was at this point I wanted the book to last a little longer. This is the type of book that I could see being made into a popular series or movie.
Reviewed by Stacey
---
Purchase online from:
---
About the Author

Amy Lloyd studied English and Creative Writing at Cardiff Metropolitan University. In 2016 she won the Daily Mail Bestseller Competition for her debut novel The Innocent Wife which, when it was published, became a Sunday Times top ten bestseller. Amy lives in Cardiff with her partner, who is also a published novelist.

---
The above links are affiliate links. I receive a very small percentage from each item you purchase via these link, which is at no extra cost to you. If you are thinking about purchasing the book, please think about using one of the links. All money received goes back into the blog and helps to keep it running. Thank you.