Xalien Goes to School by Michelle Path – Book Review
Xalien Goes to School by Michelle Path – Book Review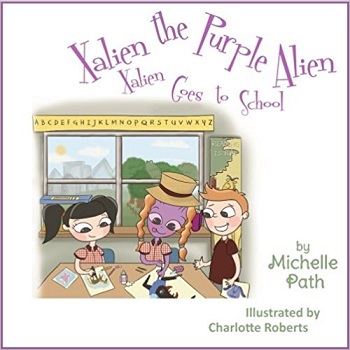 Xalien Goes to School


Xalien the Purple Alien Book Two
Author – Michelle Path
Publisher – Rowanvale Books
Pages – 32
Release Date – 30th November 2014
ISBN-13 – 978-1909902831
Format – Paperback
Reviewer – Stacey
I received a free copy of this book
Post Contains Affiliate Links

Xalien the Purple Alien is back, and it's school time for the children.
Having had so much fun with Jessica, Adam and Sarah on her first visit to Earth, Xalien returns. In her latest adventure, Xalien finds herself going to school and learning more about the ways of humans.
Faced with sandwiches, fish and handwriting, Xalien makes her way through the school day, causing all sorts of strange and comical situations for the children.

Xalien, is a purple Alien who crashed to earth when her spaceship broke. She was found by siblings Jessica, Adam, and Sarah, who taught her all about how to behave as a human.
In book two, Xalien returns to earth to see her new friends, but the children are getting ready to go to school. Then they have an idea, they could dress Xalien up, and take her to school with them.
At school Xalien learnt how to write the alphabet, draw animals, and even how to eat her lunch properly.
The children had such an exhausting day teaching Xalien more ways to be human. In the evening, when they had fallen asleep, Xalien slipped out of the window and back to her home planet again.
Xalien the Purple Alien series of books are very amusing, and have great storylines that will keep children entertained. They are also about teaching kids how to act, and behave.
Xalien does some weird and wonderful things, which children wouldn't do, but she also does lots of things such as, touching the TV, rather than sitting and watching it, or talking with her mouth full, that some young children might do. This book helps emphasis that these things are wrong.
As with the first book, Xalien Goes to School is easy to read and has beautiful, colourful illustrations. It would make a wonderful bedtime story.
I can see this series being a collection of books that kids will want to read over, and over again.
Book reviewed by Stacey
Purchase Links

Have a read of our reviews of the other books in the Xalien series 'Xalien the Purple Alien' and 'Xalien Goes to the Zoo'.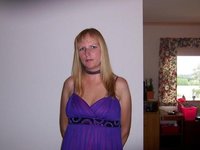 Michelle Path is an Australian children's book writer. She grew up with a love of reading and an appreciation of books from a young age..
In primary school her class were asked to write and illustrate a book, and there her dream of becoming a writer was born. A lot of inspiration for her stories come from things she is interested in or inspired by, especially a love of nature and animals.
Michelle's aim is to write books that are fun to read but that also have an educational slant, a moral or a message. She also wants to incorporate her passion for conservation of the planet and respect for the environment and it's creatures into her writing.
Author Links