Murder at the Museum by Alasdair Beckett-King – Book Review
Murder at the Museum by Alasdair Beckett-King – Book Review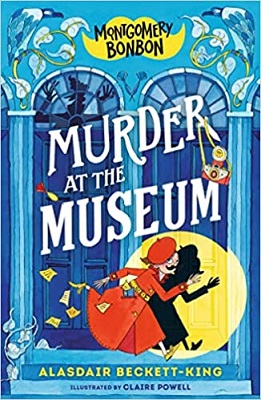 Murder at the Museum
Montgomery Bonbon
Author – Alasdair Beckett-King
Illustrator – Claire Powell
Publisher – Walker Books
Release Date – 2nd February 2023
Pages – 288
ISBN 13 – 978-1529501049
Format – ebook, paperback, audio
Star Rating – 4
I received a free copy of this book.
This post contains affiliate links.

Synopsis
A brilliantly funny young murder mystery from a rising stand-up comedian, podcaster and filmmaker – and exciting new talent in children's fiction.
Many people go their whole lives without noticing anything that is afoot, amiss, or even untoward; without ever experiencing that toe-tingling, stomach-twisting sensation that a mystery is about to unfold.
Not Bonnie Montgomery – the world's best detective. Not that anyone (other than Grampa Banks) has heard of her… But they might have heard of the great Montgomery Bonbon, the well-dressed gentleman detective who (apart from the hat and moustache) looks suspiciously like a 10-year-old girl.
Their newest case: solving the mystery surrounding a highly suspicious death at the Hornville Museum. Together they'll interview some dodgy witnesses, scour the scene for clues and – above all – hope no one notices that Bonnie and Montgomery are never in the same room at the same time…
Ten-Year-old Bonnie Montgomery believes she is the world's greatest detective although no one knows about her detective skill except her Grampa as she goes under the disguise of Montgomery Bonbon a distinguished gentleman with a French accent, fine clothes, and a moustache.
Whilst visiting the Hornville Museum with her Grampa an incident occurs in which all the lights go out and then it is discovered that someone had been murdered in a locked room and one of the exhibitions, an eagle, had been stolen. Sounds like the world's best detective needs to make an appearance and discover what happened and who the murderer/thief is.
Murder at the Museum is a children's humorous middle-grade story that is filled to the brim with exciting moments. Bonnie is an extremely clever young girl and one that can pull off being disguised as a short, but fully grown man. She has lots of skills, plenty that would rival Sherlock Holmes, and more than a few one-liners to go with them.
The book is really good fun. It will keep children entertained and laughing the whole way through. Alongside the brilliant plot are some fabulous drawings too.
Overall, this is an engaging, mystery book that is a good introduction to detective stories. Looks like there are more books featuring Montgomery Bonbon on the way too.
---
Purchase Online:
Alasdair Beckett-King
Alasdair Beckett-King is a multi-award-winning comedian and writer. He studied at the London Film School, and since then he has performed critically lauded solo shows at the Edinburgh Festival Fringe, written for BBC radio, appeared on comedy panel shows such as Mock the Week, co-written an award-winning video game and created numerous viral sketches for social media, including an interactive whodunit.
Author Links:
---
The above links are affiliate links. I receive a very small percentage from each item you purchase via these links, which is at no extra cost to you. If you are thinking about purchasing the book, please think about using one of the links. All money received goes back into the blog and helps to keep it running. Thank you.