The Innocent One by Lisa Ballantyne – Book Review
The Innocent One by Lisa Ballantyne – Book Review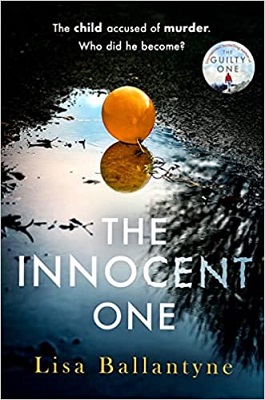 The Innocent One
Author – Lisa Ballantyne
Publisher – Piatkus
Release Date – 12th January 2023
Pages – 352
ISBN 13 – 978-0349429274
Format – ebook, paperback, audio
Star Rating – 4
I received a free copy of this book.
This post contains affiliate links.

Synopsis
Innocent
Ten years ago, Sebastian Croll was found not guilty of murdering his playmate.
Criminal solicitor Daniel Hunter defended the eleven-year-old in a trial that gripped the nation, but the past is unearthed when Daniel gets a call from his old client.
Or guilty?
Sebastian's university professor has been brutally murdered and everyone who knew her is in the frame.
As Daniel steps in to represent Sebastian for the second time, rumour of his client's identity spreads like wildfire.
The media swarm. Threats begin to arrive. And the question on everyone's lips:
Could the child once accused of murder really be innocent?
As a child, Sebastian was tried for the murder of his friend. He was defended by solicitor Daniel and found not guilty. Now a young adult at university, one of his teachers has been brutally murdered and once again Sebastian calls on Daniel to represent him.
But was Sebastian really guilty of murder as a child and could he have struck again or is he that unlucky that twice he is looked at for murder?
The Innocent One is a twisty, captivating thriller/mystery that interweaves two storylines. One regarding the murders in which Sebastian may or may not have been involved and that of the falling apart life of solicitor Daniel.
The book is the sequel to The Guilty One which I didn't realise until after I had finished this one, showing that this one works perfectly well as a standalone.
The two main characters weren't particularly likeable but I didn't hate them either, I just couldn't warm to either of them, though I did feel a little sorry for Daniel with his marriage issues and the public not liking him representing Sebastian again who they have already deemed guilty.
Overall, The Innocent One was a quick and easy read. It was intense in parts and certainly suspenseful in others. It does have you wondering whether because someone has been tried for murder previously, even if they were found not guilty, when another murder occurs are you more likely to believe they did it because of their past. – Thought-provoking!
---
Purchase Online:
Lisa Ballantyne

Lisa Ballantyne is the internationally bestselling author of five novels. Her debut, The Guilty One, was a Richard and Judy Book Club bestseller, Edgar-Award nominated and translated into nearly thirty languages. Her second novel, Good Bad Love (previously Redemption Road), was a USA Today bestseller. She lives in Glasgow, Scotland.
Author Links:
---
The above links are affiliate links. I receive a very small percentage from each item you purchase via these links, which is at no extra cost to you. If you are thinking about purchasing the book, please think about using one of the links. All money received goes back into the blog and helps to keep it running. Thank you.