Shamus Dust by Janet Roger – Book Review
Shamus Dust by Janet Roger – Book Review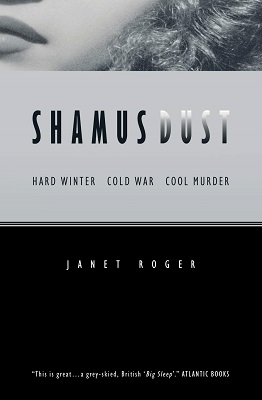 Shamus Dust
Author – Janet Roger
Publisher – Matador
Release Date – 28th October 2019
Pages – 432
ISBN 13 – 978-1838590437
Format – ebook, paperback
Star Rating – 4.5
I received a free copy of this book.
This post contains affiliate links.

Synopsis
Two candles flaring at a Christmas crib. A nurse who steps inside a church to light them. A gunshot emptied in a man's head in the creaking stillness before dawn, that the nurse says she didn't hear.
It's 1947 in the snowbound, war-scarred City of London, where Pandora's Box just got opened in the ruins, City Police has a vice killing on its hands, and a spooked councilor hires a shamus to help spare his blushes. Like the Buddha says, everything is connected. So it all can be explained. But that's a little cryptic when you happen to be the shamus, and you re standing over a corpse.
Newman is an American private investigator in 1947 London. On Christmas Eve, a call from a City bigwig he's never met sends him on a straightforward mission: deliver a key for one of said bigwig's rental properties to the police. But things aren't so simple after all. Instead of the detective inspector he expects to meet, Newman encounters a dead man.
Murder cases aren't his to investigate, but being an inquisitive PI, Newman starts poking around the bombed-out moonscape of post-war London anyway. The shady characters he rubs elbows with are only one problem. Another is that dead bodies have a habit of turning up whenever he's around. It's no surprise that the rising body count arouses the ire of a crusty detective superintendent.
Newman does his best to unravel the tangled case, but many times, when he thinks he's found an answer, it turns out to be a red herring or a dead end. Will he ever get to the complete truth?
Shamus Dust evokes the hard-boiled noir style of 1940s detective fiction. Chandler did it better, but Janet Roger comes close enough to be entertaining. The setting in the gloom of winter in 1947 adds a sense of foreboding. With parts of London still in ruins and post-war privation evident, one expects to see menace around each corner.
The story is complex, unfolding like removing the layers of an onion. Characters and events appear, and their significance becomes apparent only later. Plot elements are intricately interconnected with masterful attention to detail. However, that complexity does make following the story challenging at times.
Shamus Dust should delight any fan of intricate mystery stories, and I recommend it to fans of the genre.
---
Purchase Online:
Janet Roger

Janet Roger was apprehended for the first time at age three, on the lam from a strange new part of town. The desk sergeant looked stern, but found her a candy bar in his pocket anyway. Big mistake. He should have taken away her shoelaces. She's been on the run ever since. This is her debut.
Author Links:
---
The above links are affiliate links. I receive a very small percentage from each item you purchase via these links, which is at no extra cost to you. If you are thinking about purchasing the book, please think about using one of the links. All money received goes back into the blog and helps to keep it running. Thank you.