Malibu Motel by Chaunceton Bird – Book Review
Malibu Motel by Chaunceton Bird – Book Review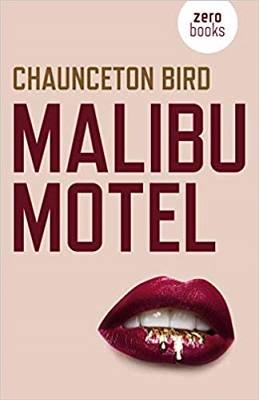 Malibu Motel
Author – Chaunceton Bird
Publisher – Zero Books
Pages – 416
Released – 30th August 2019
ISBN-13 – 978-1789041729
Format – ebook, paperback
Review by – Stacey
Rating – 4 Stars
I received a free copy of this book.
This post contains affiliate links.


Based on the incredible true story of a hapless lottery winner, Malibu Motel is a raw, timeless novel exploring the undercurrents of capitalism.
Caish Calloway is struggling to maintain a stake in the land of limitless privilege. Blinded by pride and fueled by greed, Caish is slave to the wiles of a moneyed mind, as only one who has tasted wealth's powerful fruit can be.

Malibu Motel is a dramatised true story of a lottery winner's highs and lows of winning a substantial amount and how money can change a person. In the book, we meet Caish Calloway. We are not told whether Caish is male or female or their age, although I did read the book as if Caish were male and somewhere in his thirties. It was only looking back that I realised that no gender, etc had actually been revealed. So well done to the author.
I also read the book some thirteen months before it was released and by the time it was published I couldn't find my review notes, my memory was sketchy and I didn't have the time to go back over the whole plot again. Having had a bit of time this month I managed to go over about 40% of the book again which brought the whole story flooding back to me, enough anyway to competently write a review.
Caish Calloway wins just over one hundred and twenty-four million dollars on the California State Lottery. The book begins with them having already had the money for some time, bought a house in Malibu and numerous luxury cars. They have gotten a taste for the high life, parties, drugs and rock and roll and now they want more.
Caish meets a woman at a party who talks to him about investing in a hedge fund business which she tells him will make him exceptionally rich – because over one hundred million isn't enough!! Through a series of bad choices, falling in love with the wrong person, becoming HIV positive and using far more drugs that their body can and should be able to take, this is a cautionary tale of how not to let money ruin your life.
Caish is self-centred, ruthless and never has enough money. He/she is not very likeable and yet they are truly engrossing.
The ending came as a complete surprise although I wasn't shocked that it had turned out that way. I believe that author Chaunceton Bird has deliberately not given Caish an identity as such to show that this could happen to anyone no matter your race, gender or age.
The story is brilliantly entertaining and I was hooked from the very beginning, partly as I knew that this was a real person's life I was reading about. It is a story that will show you that greed really can cost too much and that money makes doors open but when you have none they stay firmly closed and your friends list will dwindle too.
Money may make you happy, but for how long?
Book Reviewer – Stacey
---
Purchase online from:
---
About the Author

Chaunceton Bird is an attorney and author, interested in examining the lives of those left in the wake of capitalism. While in law school, Chaunceton published an award winning academic article and won several awards for exceptional writing.
Following graduation, he clerked for the Utah Supreme Court, entered into private practice, and began writing. He lives in Salt Lake City, Utah, USA.


---
What did you think of Malibu Motel? Share your thoughts in the comment section below!
---
The above links are affiliate links. I receive a very small percentage from each item you purchase via these link, which is at no extra cost to you. If you are thinking about purchasing the book, please think about using one of the links. All money received goes back into the blog and helps to keep it running. Thank you.