A Prince and a Spy by Rory Clements – Book Review
A Prince and a Spy by Rory Clements – Book Review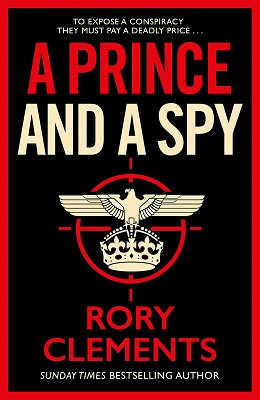 A Prince and a Spy
Tom Wilde Book Five
Author – Rory Clements
Publisher – Zaffre
Pages – 480
Released – 21st January 2021
ISBN-13 – 978-1838773335
Format – ebook, paperback, hardcover, audio
Rating – 5 Stars
I received a free copy of this book.
This post contains affiliate links.


Synopsis
Sweden, 1942 – Two old friends meet. They are cousins. One is Prince George, Duke of Kent, brother of the King of England. The other is Prince Philipp von Hesse, a committed Nazi and close friend of Adolf Hitler.
Days later, the Prince George is killed in a plane crash in the north of Scotland. The official story is that it was an accident – but not everyone is convinced.
There is even a suggestion that the Duke's plane was sabotaged, but with no evidence, Cambridge spy Tom Wilde is sent north to discover the truth . . .
'A Prince and a Spy' is the latest book from the pen of best-selling British based author, Rory Clements. The story is written in the third person and the past tense and we witness most of the action through the eyes of American-born Cambridge Professor, Tom Wilde. Wilde is an academic whose wartime role has seen him employed by the Office of Strategic Services, a newly formed intelligence agency.
A disturbing train journey encounter with an ex-undergraduate, leads Wilde into an investigation into the possible cover up of the 1942 aeroplane crash which ended the life of the Duke of Kent in Dunbeath, Scotland. The official version of events was that he was flying to Iceland as part of an RAF non-operational team but was this true?
The author gives us another scenario; a clandestine recce mission to meet his cousin, Prince Philipp von Hesse, in Sweden, to see if there was sufficient common ground for a truce between Britain and Germany. However, are there more sinister forces at work here? Wilde's painstaking investigation then takes him on a rollercoaster ride in search of the truth.
Structurally, the story is told chronologically through interwoven threads, taking the reader from England and Scotland to Poland and Sweden. The main characters have their backstories delivered along the way to give them depth. The author has clearly carried out a huge amount of research and I commend him for his attention to detail. To create authenticity, he has blended fact with fiction and several times I found myself checking to see if events as described, actually took place.
In the early stages I was a little confused who certain characters were but this became clearer as the plot unfolded. The first half of the book was at times was a little pedestrian but the second half sprang to life. I think Wilde's original remit was a little contrived and his reason for continuing with his investigation rather tenuous. His partner, Lydia, with whom he has a son, was clearly of the same mind, as she actually asked him what he was doing and why. 'Haven't you done enough for the bloody war effort?'
If you enjoy a good thriller with political intrigue thrown in, you'll enjoy this tale. At 469 pages, it is longer than the books I normally review but I'm very glad I stuck with it. There's an historical note at the end from the author, along with an explanation of what happened to the real people who found themselves entangled in this hypothetical account of events. In spite of a couple of observations raised above, Rory Clements handled sensitive aspects of Nazi wartime policy very well, so I'm happy to award five stars.
Purchase Online From:
---
What did you think of 'A Prince and a Spy'? Share your thoughts in the comment section below!
---
The above links are affiliate links. I receive a very small percentage from each item you purchase via these link, which is at no extra cost to you. If you are thinking about purchasing the book, please think about using one of the links. All money received goes back into the blog and helps to keep it running. Thank you.
Like us on Facebook – Tweet us on Twitter – Pin us on Pinterest