The Fragile Ones by Jennifer Chase – Book Review
The Fragile Ones by Jennifer Chase – Book Review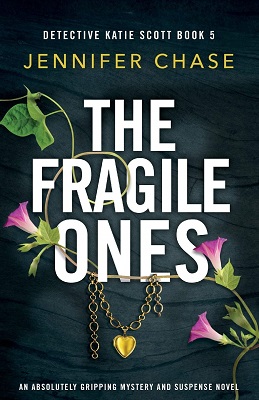 The Fragile Ones
Detective Katie Scott Book Five
Author – Jennifer Chase
Publisher – Bookouture
Pages – 299
Released – 8th March 2021
ISBN-13 – 978-1838888961
Format – ebook, paperback, audio
Rating – 5 Stars
I received a free copy of this book.
This post contains affiliate links.


Synopsis
"Please Mommy, can Tessa and I go play on the swing by the creek?" the little girl begs, pushing a blonde curl from her eyes. "We'll stay together, and we promise to be safe." Hours later, their mother waits anxiously for her darling girls to arrive home with a list of reasons why they are late. But the front door never opens…
When the bodies of eleven and twelve-year-old sisters, Tessa and Megan, are found at the bottom of a ravine—dressed in matching pastel summer outfits, their small bodies broken from the fall—Detective Katie Scott is called to one of the most shocking and heartbreaking crime scenes of her career.
Carefully picking through the fragile remains, Katie makes the first of many disturbing discoveries: the girls were not biological sisters. The youngest, Megan, is a DNA match to a kidnapping case years before. The tiny number burnt into her skin the mark of a terrifying killer intent on keeping count of his collection.
Her PTSD from the army triggered, Katie is left reeling as she maps other missing children in the local area. Has this twisted soul found a way to stay nearby his victims? Could he be watching now as Katie hits one dead end after another?
A wild storm building, matching a fibre found during the autopsy to a nearby boatyard is the break Katie needs. But when another girl goes missing, just as lightning strikes and the power goes out, Katie only has her instincts, her team and her service dog to rely on. As time runs out for Katie to finds the stolen child alive, who will become the next number on this monster's deadly list?
Jennifer Chase is back with the fifth instalment of her Detective Katie Scott series. This time Detective Scott is investigating the murder of sisters Tessa and Megan who went missing two years previously, whose bodies she discovered whilst showing a documentary film crew around rural woodland where there have been sinkholes.
Given that the girls have been missing for two years, Katie wants her and her partner McGaven, who run the cold cases department of Pine Valley Police Department, California, to be the lead detectives. They are in for a tough and mysterious time though with DNA showing something they didn't expect, a tattoo with the number 372 found on one of the girl's scalps, and someone seems to be trying to stop them from progressing in the case.
Can the pair discover what happened to the girls, and is the case far bigger than just the two of them?
Having read the previous four books in the series, I was eager to see where author Jennifer Chase would take her new book. The Fragile Ones didn't disappoint, in fact, I think this is the best from the series with Detective Scott not only having to work the murder case of two young children, she is also trying to work out who is trying to stop her from getting too close, as well as someone seems to also be helping her. Alongside her investigation, you have her relationship with Chad and also her PTSD which rears its ugly head at the wrong times and Katie fights to keep it under control.
The plot was gripping and mysterious. Why would someone brand a child with a number and how come it kept on cropping up in strange places? Plus, why did their mother call them 'The Fragile Ones', what did that even mean?
I rushed through the story eager to find all the answers. It is a fast-paced book and takes you on an emotional rollercoaster as well as being twisty. You can feel the story intensify as the investigation proceeds and Katie starts putting some of the pieces together. You can certainly tell it has been written by someone who knows the field that she writes expertly as everything felt so raw and real.
Purchase Online From:
---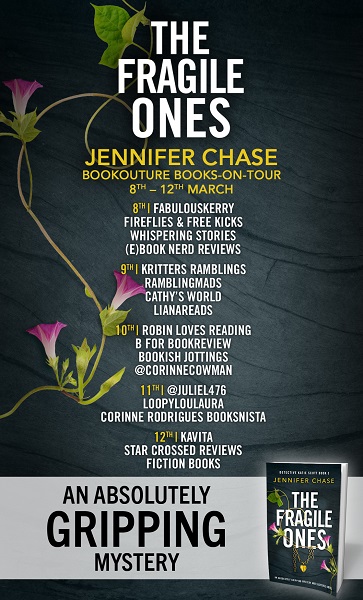 ---
What did you think of 'The Fragile Ones'? Share your thoughts in the comment section below!
---
The above links are affiliate links. I receive a very small percentage from each item you purchase via these link, which is at no extra cost to you. If you are thinking about purchasing the book, please think about using one of the links. All money received goes back into the blog and helps to keep it running. Thank you.
Like us on Facebook – Tweet us on Twitter – Pin us on Pinterest