Costa Del Churros by Isabella May – Book Review
Costa Del Churros by Isabella May – Book Review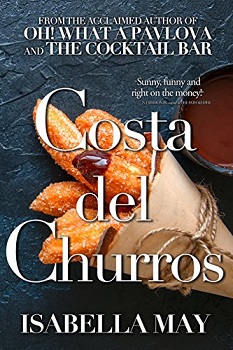 Costa Del Churros
Author – Isabella May
Publisher – Createspace
Pages – 258
Released – 13th July 2018
ISBN-13 – 978-1722953034
Format – ebook, paperback
Reviewer – Stacey
Rating – 4 Stars
I received a free copy of this book
Post contains affiliate links.
The rain in Spain doesn't mainly fall on the plain…
Brits abroad Belinda, Julia, Laura and Georgina need more than the sweetness of churros with chocolate dipping sauce to save them from their unsavoury states of affairs.
Cue Carmen Maria Abril de la Fuente Ferrera, the town's flamboyant flamenco teacher! But can she really be the answer to their prayers?
One thing's for sure: the Costa del Sol will never be the same again.

From the title to the blurb I so wanted to enjoy this book. I mean have you seen that gorgeous cover, who doesn't love tasty churros!.
The plot surrounds four ex-pats living in the Costa Del Sol, Spain. Belinda, Julia, Laura, and Georgia. Each woman had their own story to tell, each had arrived in Spain with big ideas, each of the women come together via the art of Flamenco dancing, taught by the beautiful Carmen.
The book is written in multiple, alternating POV chapters and right there was my downfall. I am not a lover of multiple POV. I find that books flow better and I have a better connection with the story when it is told as one, not in what feels like four stories merged into one book – Just my own honest opinion.
The women were all very realistic and their situations just as much too. I did enjoy getting to know them and the humour throughout was on point. Whilst I might not like multiple POV I can appreciate great writing and a solid plot and Ms. May has both of them right here.
It is a feel-good, humorous book show casting strong women with big personalities, including the mysterious Carmen who turned out to be my favourite character.
Reviewed by Stacey
---
Purchase online from:
---
About the Author

Isabella May lives in (mostly) sunny Andalucia, Spain with her husband, daughter and son, creatively inspired by the sea and the mountains. When she isn't having her cake and eating it, sampling a new cocktail on the beach, or ferrying her children to and from after school activities, she can usually be found writing.
As a co-founder and a former contributing writer for the popular online women's magazine, The Glass House Girls – www.theglasshousegirls.com – she has also been lucky enough to subject the digital world to her other favourite pastimes, travel, the Law of Attraction, and Prince (The Purple One).
She has recently become a Book Fairy, and is having lots of fun with her imaginative 'drops'! Costa del Churros is her third novel with Crooked Cat Books, following on from the hit sensations, Oh! What a Pavlova and The Cocktail Bar.




---