The Fake Date by Lynda Stacey – Book Review
The Fake Date by Lynda Stacey – Book Review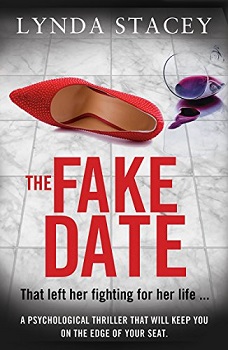 The Fake Date
Author – Lynda Stacey
Publisher – Ruby Fiction
Pages – 314
Released – 18th September 2018
Format – ebook, audio
Reviewer – Stacey
Rating – 5 Stars
I received a free copy of this book
Post contains affiliate links.
Nine hours and eleven minutes …
That's how long it's been since Ella Hope was beaten to within an inch of life and left for dead.
She lies, unable to move and praying for somebody to find her, as she counts down the minutes and wonders who could have hated her so much to have hurt her so badly. Was it the man she went on a date with the previous evening, the man linked to the deaths of two other women? Or somebody else, somebody who wants her out of the picture so much they're willing to kill?
Whoever it is, they will pay. All Ella has to do first is survive …

Twenty-Eight-Year-Old Journalist, Ella Hope has been attacked and left for dead on the North Yorkshire Moors. Unable to move or even make a sound, Ella has realised that this could be the end for her. She had been lying in the cold, muddy field for hours and no-one has passed her by. Eventually, a man walking his dog comes across her body. Luckily Ella is just clinging on to life.
Seven months later and Ella is starting to get her life back in order. After spending weeks in hospital and then an extended stay at her parents home, she is finally ready to move back home. Upon arrival, it would seem that she has a new neighbour, Journalist for a rival newspaper, Will Taylor.
Ella is still in a difficult place and struggling to trust anyone, she likes Will and the two hit it off straight away. However, she hasn't put the past to bed yet. She is determined to find out who tried to kill her and although someone has been charged with her attack, she doesn't believe he actually did it. Yes, two of his young wives might have died in suspicious circumstances, but did he really kill them and try to kill her too?
Ella uses all her journalist know-how to discover the truth, but with the culprit not happy that Ella survived this could be a race as to whether Ella can bring them to justice before they try to kill her again.
The Fake Date is a real psychological thriller. It gets inside you and makes you analyse everything about the book. The opening scene is just amazing. Ms. Stacey has really captured what I believe to be a true representation of how someone would think and feel if they thought they were dying and couldn't help themselves. Memories flooding their thoughts.
Ella is one headstrong character. She needs closure on what happened to her and when doubts come into her mind about the person arrested actually being the culprit, she decides to take matters into her own hands. She knows it is dangerous, but she needs to do it for her own sanity.
Will is just adorable. He's one of life's real gentlemen. Being a journalist he knows all about what happened to Ella and is there to help her and support her in whatever way he can.
I did work out the culprit long before they had been revealed but that didn't take away anything from the plot. I also loved the sections written from the POV of the attacker, some were really creepy and makes you wonder how people think the way they do.
This is an amazing book that I thoroughly enjoyed. The book captivated me and whilst essentially it is a thriller I loved the romantic aspects too, this was a nice touch. There are plenty of twists and turns to keep you on your toes and a few red herrings thrown in for good measure. All I can say is grab a copy and read it now, you won't be disappointed.
Reviewed by Stacey
---
Purchase online from:
---
About the Author

Lynda grew up in the mining village of Bentley, Doncaster, in South Yorkshire. Her own chaotic life story, along with varied career choices helps Lynda to create stories of romantic suspense, with challenging and unpredictable plots, along with (as in all romances) very happy endings.
Lynda joined the Romantic Novelist Association in 2014 under the umbrella of the New Writers Scheme and in 2015, her debut novel House of Secrets won the Choc Lit & Whole Story Audiobooks Search for a Star competition.
She lives in a small rural hamlet near Doncaster, with her husband, Haydn, whom she's been happily married to for over 20 years.



---