Unclaimed Baggage by Emma Ryan – Book Review
Unclaimed Baggage by Emma Ryan – Book Review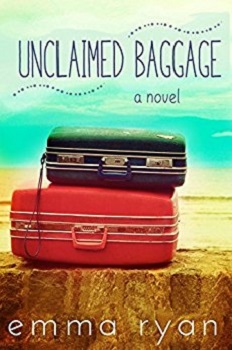 Unclaimed Baggage
Author – Emma Ryan
Pages – 268
Released – 7th November 2017
Format – ebook
Reviewer – Kerstin
Rating – 5 Stars
I received a free copy of this book
Post contains affiliate links.
Jenna moves home to care for her dying stepfather, but she ends up taking care of everyone. While struggling to say goodbye to the only father she has ever known, she unearths a family secret that manages to disrupt her already complicated life. And at what seems like the worst possible time, Jenna falls in love with a man who turns out to be the first person in her life who doesn't want anything from her, but her.

This book is about Jenna and her family.  Right at the beginning of the story, Jenna has to leave college in order to care for her stepdad, Bill. Bill is suffering from a terminate disease and neither Jenna's twin, Julie, nor her mother are in the state to take proper care of Bill.  Jenna's brother lives far away and only visits for holidays and Bill's son, Bill Jr., has to look after his son Lucas and wife Annie. That leaves Jenna more or less alone with the care of Bill.
Julie helps too, but Jenna can't rely on her help.  Julie is the opposite from Jenna, still a kid with her twenty-one-years. Their mother is in denial, always on the run. She is a quite successful entrepreneur and therefore travelling a lot.
Jenna takes her old job at Dunkin' Donuts and takes care of Bill and her sister. One day she meets Sam and it looks like she has finally found one she can rely on and be just herself. No expectations, no demands. With Sam Jenna is just Jenna.  She is very lucky to have Sam by her side, because her life takes an unexpected turn.  As the state of Bill is getting worse, he tells Jenna his lifelong secret and now she has to deal with it.
I loved this book. Right from the beginning I was hooked. The author has a nice way with words, the whole story is told in a calm but captivating way. It is a fast read, yes, but it will hit your heart. I am sure about that. The whole story about Jenna and her inner struggles with her family history, with Julie and her mother is touching and I empathized with her all the way through the book.
I liked that the chapters are short and therefore easy and fast to read, but I didn't want the book to end. The plot was very well thought-out and led me smoothly through the story.  I could have read a lot more about Jenna and her family. I wholeheartedly recommend reading this book, especially if you are into family dramas and high quality writing.
Reviewed by Kerstin
---
Purchase online from:
---