The Dragon Lady by Louisa Treger – Book Review
The Dragon Lady by Louisa Treger – Book Review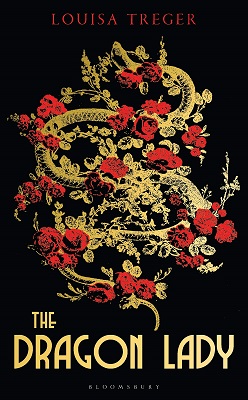 The Dragon Lady
Author – Louisa Treger
Publisher – Bloomsbury Caravel
Pages – 320
Released – 13th JUne 2019
ISBN-13 – 978-1448217267
Format – ebook, paperback, hardcover, audio
Review by – Stacey
Rating – 4 Stars
I received a free copy of this book.
This post contains affiliate links.


Opening with the shooting of Lady Virginia 'Ginie' Courtauld in her tranquil garden in 1950s Rhodesia, The Dragon Lady tells Ginie's extraordinary story, so called for the exotic tattoo snaking up her leg.
From the glamorous Italian Riviera before the Great War to the Art Deco glory of Eltham Palace in the thirties, and from the secluded Scottish Highlands to segregated Rhodesia in the fifties, the narrative spans enormous cultural and social change. Lady Virginia Courtauld was a boundary-breaking, colourful and unconventional person who rejected the submissive role women were expected to play.
Ostracised by society for being a foreign divorcée at the time of Edward VIII and Mrs Simpson, Ginie and her second husband, Stephen Courtauld, leave the confines of post-war Britain to forge a new life in Rhodesia, only to find that being progressive liberals during segregation proves mortally dangerous. Many people had reason to dislike Ginie, but who had reason enough to pull the trigger?
Deeply evocative of time and place, The Dragon Lady subtly blends fact and fiction to paint the portrait of an extraordinary woman in an era of great social and cultural change.

Until I was partway through this book I never realised that it was based on real-life people. Lady Virginia Courtauld (Ginie) and her husband Stephan. Yes, you can probably see from the last line of the synopsis where is states 'blends fact and fiction to paint the portrait of an extraordinary woman' but I'll be honest, I didn't actually read that last bit. Note to self, read the whole synopsis in future.
Even once I had realised it was based on real people I then had to Google them as unfortunately, I'd never heard of them. The real-life Ginie was more flamboyant and rebellious than the book paints her as, if you don't know her do Google her, her life is well worth a read.
The book opens in the 1990s with a woman called Catherine recounting the day she witnesses Ginie get shot, we are then transported back to 1950s Rhodesia, Africa, today it is called Zimbabwe, with the Courtauld's first arriving in Rhodesia. There is a lot of speculation with the residents about Ginie and what type of woman she is, especially as she has a large tattoo of a snake down the side of her leg from thigh to ankle and her liberal views.
The book is split into five sections, each a different period of time and place and is told from various points of view, Catherine's, Ginie's , and Stephen's.
As well as Ginie and her exotic lifestyle and the shooting of her, there is also quite a lot on apartheid, racism, slavery, etc within the book too. I felt that this was handled well, especially given the era the book is set within.
The book is mesmerising and blended fact and fiction so perfectly that without knowing Ginie's true story you wouldn't be able to tell which parts of her life were made up and which were indeed true.
I found this book a breath of fresh air, especially given the fact that I'm not much of a historical fiction lover nor a multi-POV reader but there was something about this book, quite possible this extraordinary woman, that kept me reading as well as the engaging writing that had me turning the pages at speed wanting to find out everything about her life and absorb the story fully.
Book Reviewer – Stacey
---
Purchase online from:
---
About the Author

Born in London, Louisa Treger began her career as a classical violinist. She studied at the Royal College of Music and the Guildhall School of Music, and worked as a freelance orchestral player and teacher.
Louisa subsequently turned to literature, gaining a First Class degree and a PhD in English at University College London, where she focused on early twentieth century women's writing.
Married with three children, she lives in London.



---
What did you think of The Dragon Lady? Share your thoughts in the comment section below!
---
The above links are affiliate links. I receive a very small percentage from each item you purchase via these link, which is at no extra cost to you. If you are thinking about purchasing the book, please think about using one of the links. All money received goes back into the blog and helps to keep it running. Thank you.
Like us on Facebook – Tweet us on Twitter – Pin us on Pinterest