Hero or Zero by Julie Shackman – Book Review
Hero or Zero, by Julie Shackman – Book Review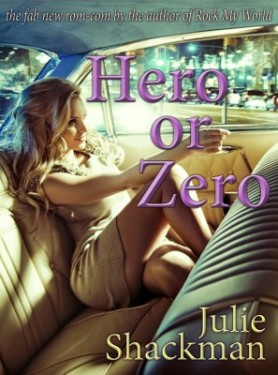 Hero or Zero
Author – Julie Shackman
Publisher – Not So Noble Books
Pages – 271
Release Date – 27th September 2014
Format – ebook
Reviewer – Stacey
Rating – 4 Stars
I received a free copy of this book

A light-hearted, funny romance novel you will adore.
When single mum Chloe Jones wins a magazine competition to have TV heartthrob Ethan Blake live with her for a month, she thinks her dreams have come true.
The presence of the handsome star in her home and small Scottish town certainly causes a stir. But when Chloe begins to see his true colours, will she find the courage to face him, and admit where her heart truly lies?

Hero or Zero is a unique story, built on the life of a celebrity, mixing with the ordinary everyday folk.
When twenty-something single mum Chloe wins a competition to have her idol, Ethan Blake, live with her for a whole month, she is ecstatic. What more could a girl want?
Chloe pictures a 'happy ever after' fantasy in her head, in which Ethan falls madly in love with her, and they become a little family.
In reality, that's all that it is deemed to be, a fantasy. Ethan likes Chloe, but for one thing only. He thinks that being a movie star means that he can have any woman that he chooses to, and seeing as he's going to be living with Chloe for the month, then his luck is in!
Chloe is a bright, lovable, fun character who adores her young son Danny. She is strong and determined, but seems to go weak at the knees where Ethan is concerned. She has built up an image of him from the roles that he has played, and believes him to be a wonderful, amazing person. Unfortunately, she comes crashing down to earth when she eventually sees the real Ethan.
Ethan is a nasty piece of work. He is so big-headed, and will stop at nothing and for no-one in order to get to where he's going in life, and for him, that's to make it to the top in Hollywood, even if he has to sleep his way there.
When Ethan moves to the little Scottish Village for the month, he brings along his agent, Sean. Sean is staying in a local hotel so he can be on hand for Ethan's every need, and to keep an eye on him.
Sean is a wonderful, mixed-up character. He's moody but mysterious, and he makes Chloe feel a bit uncomfortable around him, as if he doesn't like her, when in fact that couldn't be further from the truth.
The story is a romantic love triangle, mixed in with comical scenes, mainly from sub plots running along side the main plot.
The book is written from multiple perspectives, with Ethan and Sean's being shown in a series of flashbacks from their younger lives. We get to witness first-hand what happened in both of their separate pasts to make them act the way that they do today.
Hero or Zero is easy to read and light-hearted, with a dash of romance and plenty of excitement. It would be a perfect summer beach read, taking you into the celeb world, and proving that not everyone is as they seem.
I found the book a little hard to get in to at first, but once Ethan arrived to live with Chloe, the story picked up in pace.
Overall, I loved the uniqueness and the delightful characters, oh and the fact that I hadn't guessed the ending correctly, which was a nice touch.
I certainly look forward to reading more books by Julie.
Book reviewed by Stacey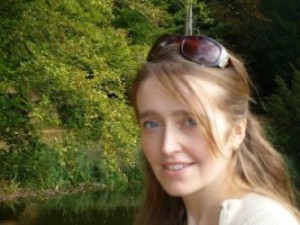 I trained as a journalist, but writing romance has always been a dream of mine.
When I've not got my head in a book or drafting one, I write verses and captions for greetings card companies. Writing at home seems to be incredibly difficult for me – I usually require tea, music and noise!
My second romcom, "Hero or Zero" is out now.>
'Rock My World', was my début romcom and I've almost finished writing my third romcom, which features a well-known historical figure…!
Apart from pretty stationery, I'm fanatical about reading and handbags.
I'm married, have two sons and live in Scotland.
Author Links
www.julieshackman.wordpress.com
@G13Julie
Facebook
Have a read of our interview with Julie – 'The Writing Life of: Julie Shackman'