A Clean Sweep by Audrey Davis – Book Review
A Clean Sweep by Audrey Davis – Book Review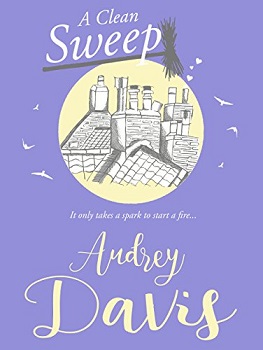 A Clean Sweep
Author – Audrey Davis
Pages – 312
Released – 19th December 2017
ISBN-13 – 978-1521548691
Format – ebook, paperback
Reviewer – Stacey
Rating – 4 Stars
I received a free copy of this book
Post contains affiliate links.
Love comes around when you least expect it. Fifty-something widow Emily isn't expecting romance. Nor is she expecting a hunky twenty-something chimney sweep on her doorstep.
Daughter Tabitha knows something isn't quite right with her relationship, while her boss – Abba-loving Meryl – thinks she's found the real deal. Are they both right, or pursuing Mr Wrong?
Emily's sister, Celeste, has the perfect marriage … or does she? Can a fitness tracker lead her down the path to happiness or heartbreak?
Susan is single, overweight and resigned to a life of loneliness. There was the one who got away but you don't get another try, do you?
Prepare for a rollercoaster ride of emotions in a book that will grab your heart, make you smile and wish you had a chimney to sweep.

Widowed fifty-something Emily isn't interested in dating again, no matter how much her daughter and friends try to persuade her.
At a recent book club held at her home, Emily tries to smoke her guests out when she lights the fire in her living-room. Something is causing an obstruction in her chimney. Looking up 'Chimney Sweeps' she comes across a company 'Up Yours' and on the name alone decides to hire them.
She's in for a surprise though when twenty-something Joe turns up. He's rather hunky and starts something stirring inside her. The feeling it would seem is mutual and it ends up being more than just her chimney being seen to!
How will Emily cope with a man half her age?
A Clean Sweep is an entertaining book that follows the life of ordinary Emily, her book club friends, her sister Celeste and her daughter Tabitha, who is having a relationship crisis of her own.
The book is filled with plenty of euphemisms and one-liners and is very amusing from the first page to the last. It also has a brilliant plot that you can delve right in to.
There were quite a lot of characters all with their own life problems which interweave themselves into the main plot. They were all a delight to get to know and their stories were all a pleasure to read.
This is a book about an ordinary woman, with ordinary friends set in London. It is light-hearted and would be a perfect beach read, something to keep you amused whilst lolling in the sun.
Reviewed by Stacey
---
Purchase online from:
---
About the Author

Thanks for dropping by! I'm Audrey Davis, the best-selling author of … OK, the aspiring best-selling author of five full-length romantic comedy novels, as well as a short prequel. I'm a former journalist, born in Scotland but exiled to Switzerland. Both beautiful countries, but a big piece of my ♥ belongs to Edinburgh.





---