The Word-Keeper by Veronica Del Valle – Book Review
The Word-Keeper by Veronica Del Valle – Book Review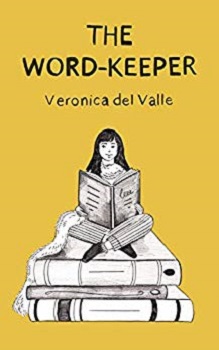 The Word-Keeper
Author – Veronica Del Valle
Publisher – Silverwood Books
Pages – 180
Released – 29th May 2019
ISBN-13 – 978-1781328415
Format – ebook, paperback
Review by – Stacey
Rating – 4 Stars
I received a free copy of this book.
This post contains affiliate links.


What would happen if words disappeared forever?
Set in a whimsical town called Inkwell, a place with an ancient secret history, this fairytale-like adventure will uncover the key to the power hidden within words.
The Word-Keeper is a tale about a savvy bookmark named Ben that unwillingly becomes an evil imp with only one objective: follow the orders of his master and destroy the words that live inside books.
Only one girl can stop him. Her name is Florence Ibbot. She is eleven years old, oddly eloquent and a quiet observer of the world. But above all, Florence is a keen logophile and is willing to sacrifice everything to protect the words.
She sets out to discover who is behind all this. The journey will take her to the origins of writing and inspiration. But she'll also have to face the most treacherous adversary, Zyler, a ruthless sorceress whose sole mission is to ruin one of humankind's most precious possessions: the gift of language.
As the final battle approaches, Florence will have to learn how to wield words instead of the sword. Is Florence brave enough to become who she was born to be?

Eleven-year-old Florence Ibbot is off to her favourite place, the town of Inkwell where her Grandfather runs the local book store. Florence is a very lovely young girl who adores reading and words. She is an only child and her parents are lecturers and rarely ever at home.
The town of Inkwell is an unusual place with its feather field that makes you lose time, drumming Wombats, and pushy plum trees that talk to you all about how plums are the best fruit in the world.
One day whilst helping at her Grandfathers shop something bad happens to all the books and the words inside. It is up to the two of them to solve the mystery or the written word could be lost forever.
The Word-Keeper is certainly a strange little book that has plenty of magical moments and a big adventure within. Florence is a very bright, well-educated young girl who just adores words and their meanings. She also adores the town of Inkwell and can't wait to visit her Grandfather. She is given a hard time at school by some of the school bullies and words are her safe, happy place.
I would say that this book is for middle-grade readers. The plot is quite exciting and nothing like I have read before. There is also some amazing artwork within the pages too and a map of Inkwell at the beginning – who doesn't love a map in a book!
The story reminds me a little of Alice in Wonderland or Peter Pan where you have the normal world and then a magical one and the two work well side by side.
My only tiny worry is with the cover, as the story within is delightful, full-on and has you eagerly reading. There is an evil sorceress and a bookmark that comes to life, but for how lively the tale is I'm concerned that children won't see past the cover to read the fabulous story within.
Book Reviewer – Stacey
---
Purchase online from:
---
About the Author

Veronica Del Valle grew up in Argentina, but life eventually led her to live in London, the city that was her home for many years.
Veronica's always had a fondness for words, language and the magic of storytelling. She has an MA in Creative Writing from Kingston University.
Veronica currently lives in Buenos Aires with her husband, Ale, and her daughter, Tomiko. She teaches creative writing at Universidad de San Andres and is a contributing editor and writer for one of Argentina's leading news organizations.
When she's not writing or teaching, she's either a) meditating or b) enjoying life with her family (which, in a way, is another beautiful way to meditate).
The Word Keeper is the first novel she's written.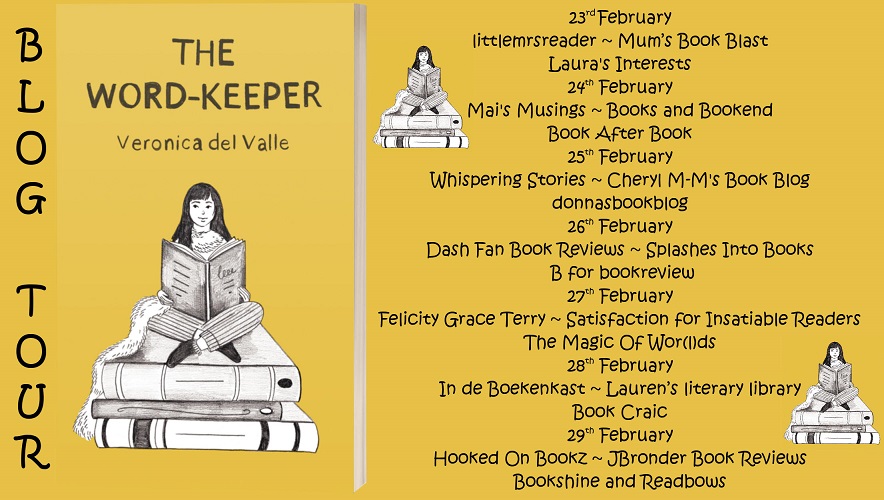 ---
What did you think of The Word-Keeper? Share your thoughts in the comment section below!
---
The above links are affiliate links. I receive a very small percentage from each item you purchase via these link, which is at no extra cost to you. If you are thinking about purchasing the book, please think about using one of the links. All money received goes back into the blog and helps to keep it running. Thank you.
Like us on Facebook – Tweet us on Twitter – Pin us on Pinterest