Cobwebs in the Dark by Rachael Richey – Book Review
Cobwebs in the Dark by Rachael Richey – Book Review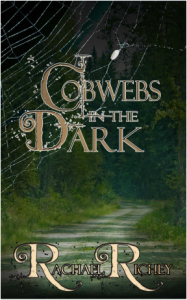 Cobwebs in the Dark
The NightHawk Series Book Three
Author – Rachael Richey
Publisher – The Wild Rose Press
Pages – 246
Release Date – 17th February 2016
Format – ebook, paperback
Reviewer – Stacey
I received a free copy of this book
Post Contains Affiliate Links

With NightHawk newly reformed and preparing for a world tour, Abi Hawk finds herself unaccountably insecure about the attention her husband Gideon, the band's frontman, will receive from groupies.
In New Zealand for the first leg of the tour and a visit with Gideon's sister, they are faced with a new problem. An outrageous claim pushes Abi's insecurities to new heights, and it takes all their resolve to stick together and sort it out.
Meanwhile their daughter Natasha goes on an adventure of her own, one that places her in danger from an old adversary, forcing Abi and Gideon to summon all their combined strengths to rescue her.

Gideon has reformed his band NightHawk and is off to tour the world. First stop, New Zealand, where Gideon, Abi, Natasha and little Oliver are staying with his sister, who lives out there.
For Gideon and Abi its time to relax and spend some quality time with his family, and finally put the past behind them. For Natasha its a chance to carry out a dream that she has, after a shock discovery in book Two, with a little bit of deception along the way.
But will everything run smoothly this time, I mean surly psychotic Simon won't rear his ugly head again?, especially when he is wanted by the police.
When I was first asked last year, by Rachael if I would like to read and review 'Storm Rising' (NightHawk Book One), her début novel, I had no idea how much I would fall in love with this series.
When it came to, 'Rhythm of Deceit' (NightHawk Book Two), I must of asked Rachael numerous of times when her publication date was going to be. I was just a little eager to read it!
However this time Rachael beat me to it, contacting me first asking if I would like to read Book Three. After careful consideration, around 2 seconds, I almost bit her hand off. Yes please. I needed my Abi and Gideon fix.
What I love about Rachael's writing style is how the book flows naturally and progressively, and that her characters are true to life. There are no airs and graces about them, they are everyday people that you can fully connect with. With beautiful characters comes a beautiful book.
The characters all have a strong family bond and they stand shoulder to shoulder in the hour of need. Which in Abi and Gideon's lives is quite often, especially whenever Simon is about.
Taking us back in time at numerous stages throughout the story, we not only get to uncover more of Abi's past, but this time Natasha's too.
It was shocking to see how Gideon and Abi could of been reunited many years ago, but through a sequence of unfortunate events, they came so close but never actually face to face. I agree with Abi's train of thought though, in that they wouldn't of been the couple they are now without the battles they have had to face.
Natasha stood out in her own light in this book. She has grown into a wonderful, yet stubborn and extremely determined young woman who, when she gets an idea in her head just can't let it go, no matter what it takes to fulfil that idea.
Delving into Natasha's past it was shocking to hear how badly this young girl had been treated by her foster families' children and how those events still haunt her.
The story wouldn't be complete without psychotic Simon making an appearance. He still blames Abi and Natasha for Gideon no longer having anything to do with him, and has a plan to get back in their good books, a plan that was flawed from the start, though it did cause extreme distress for the couple in more than one way.
The only thing I can say about Simon's character is that I would love to see him be a little 'darker' in his actions.
Cobwebs in the Dark is an exciting, suspenseful book that once again consumed me within its pages and never let me down. Now Mrs Richey, let's talk about Book Four 🙂
Book reviewed by Stacey
Purchase Links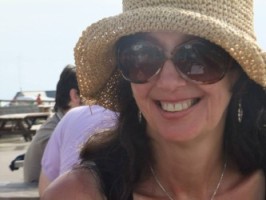 I was brought up in Hampshire, then lived on the Isle of Mull for fourteen years, during which time I met and married my husband David, and had two children.
In late 2000 the family moved to Cornwall where we have lived ever since.
I began writing stories at the age of seven, and have been obsessed with writing ever since.
My debut novel, Storm Rising, is the first in the NightHawk Series, closely followed by Rhythm of Deceit, Cobwebs in the Dark and The Girl in the Painting.
I have signed a publishing contract with the Wild Rose Press for the whole series and Storm Rising, Rhythm of Deceit and Cobwebs in the Dark, are now all available in both e-book and paperback format. The Girl in the Painting is on its way!
You can find out more about Rachael by reading – 'The Writing Life of: Rachael Richey'.
Author Links
www.rachaelricheybooks.weebly.com
@rachaelrbooks
Facebook
Instagram
Goodreads
Blog posts straight to email via Bloglovin – Like us on Facebook – Follow us on Twitter