Rhythm of Deceit by Rachael Richey – Book Review
Rhythm of Deceit by Rachael Richey – Book Review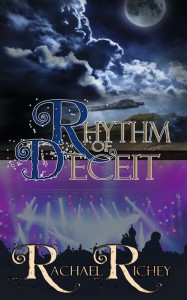 Rhythm of Deceit
NightHawk Series Book Two
Author – Rachael Richey
Publisher – The Wild Rose Press, Inc
Pages – 428
Release Date – 29th July 2015
Format – ebook, paperback
Reviewer – Stacey
Rating – 5 Stars
I received a free copy of this book
Contains Affiliate Links

Two years after finally being reunited, Abigail Thomson and Gideon Hawk are happily married and living in Cornwall with their children.
While Gideon is busy focusing his energies on his musical career, Abi makes an unexpected discovery of old diaries dating from 1950. As she and her daughter read through them, the reasons behind Abi's mother's destructive actions become much clearer, and they discover a shocking sixty-year-old deception.
Meanwhile, Simon Dean, the vengeful ex-drummer of Gideon's band NightHawk, is about to make life very difficult for them all—again—and he is prepared to go to desperate lengths to achieve his goals.

After the revelations in Storm Rising, surrounding the daughter they never knew they had, Abi and Gideon are now happily married, living in Cornwall with their daughter Natasha and their young son Oliver (Ollie).
After being out of the spotlight for the last few years, Gideon feels its the right time to restart his music career, this time by going solo.
Simon, the deceitful ex-drummer from NightHawk, and ex-friend of Gideon's, is out to cause trouble again. He is intent on splitting the couple up and he will go to any lengths to try to succeed in his mission.
Will Simon succeed this time, and manage to create a scandal so big that it might mean the end of Gideon and Abi's marriage?
I loved Storm Rising. I thought that it was brilliant and unique, especially from a début author, but nothing could have prepared me for Rhythm of Deceit. This book is truly amazing and I loved every bit of it!
You can always tell how good a book is by how the words seem to jump off the page at you and you lose track of time, as if the rest of the world stands still. Well I certainly found myself losing track of time with this book, especially when I was still sat in bed at 2am, reading, next to my snoring husband!
Once again, just like in the first book, the story includes chapters relating to the past. This time we learn all about Abi's late mum Joan, courtesy of her diaries from the early 1950's, diaries, that she had never let anyone see, not even her husband.
I loved finding out about Joan's past, talk about suck you in! I found learning all about her teenage life, enthralling and was truly surprised and shocked at some harrowing events that went on. I couldn't wait to find out what happened to the sisters, and the revelations felt like a blow to the chest, I certainly wasn't prepared for what had occurred.
Joan's past will give you the answers to why she took baby Natasha away from Abi. Her actions can never be justified, but at least I could begin to understand what made her do something, so terrible, to her only daughter.
All I can say is this book is fantastic and realistic. I felt like I was there alongside the character's, begging Simon to just let Gideon and Abi be happy, what more does that man want blood!
If Rachael has made book two this incredible, then I am certainly looking forward to the next two books in the series, and can't wait to get my hands on them, hint hint!
Book reviewed by Stacey
Purchase Links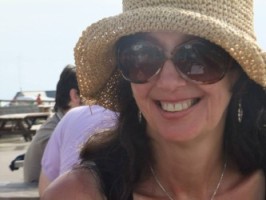 I was brought up in Hampshire, then lived on the Isle of Mull for fourteen years, during which time I met and married my husband David, and had two children.
In late 2000 the family moved to Cornwall where we have lived ever since.
I began writing stories at the age of seven, and have been obsessed with writing ever since.
My debut novel, Storm Rising, is the first in the NightHawk Series, closely followed by Rhythm of Deceit, Cobwebs in the Dark and The Girl in the Painting.
I have signed a publishing contract with the Wild Rose Press for the whole series and Storm Rising, Rhythm of Deceit and Cobwebs in the Dark, are now all available in both e-book and paperback format. The Girl in the Painting is on its way!
You can find out more about Rachael by reading – 'The Writing Life of: Rachael Richey'.
Author Links
www.rachaelricheybooks.weebly.com
@rachaelrbooks
Facebook
Instagram
Goodreads