Zenka by Alison Brodie – Book Review
Zenka by Alison Brodie – Book Review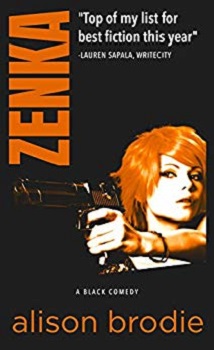 Zenka
Author – Alison Brodie
Pages – 306
Released – 6th November 2017
Format – ebook
Reviewer – Clive
Rating – 4.5 Stars
I received a free copy of this book.
This post contains affiliate links.
London crime boss, Jack Murray, demands to be obeyed.
Hungarian pole-dancer, Zenka, obeys NO-ONE.
Their friendship is explosive. But these two mismatched misfits are about to be united in a common goal when Jack receives a letter …
The letter says Jack has a son, Nicholas, a community worker whose patients call him a "saint".
Jack is overjoyed. But there's a problem. He needs a son with balls – not a halo – to inherit the Firm.
Zenka takes charge. "Don't vorry, Jack. Ven I am finished vith Nicholas he vill be dog's bollocks just like his papa." Excitedly, she arms herself to the teeth. Then musters the mob.
Nicholas plans to marry Penelope and settle in suburbia. He leads a tranquil, if uneventful, life. That is, until he falls in love with a mysterious Hungarian girl who begs him to protect her. Protect her?! He's qualified to nurse the elderly handicapped – not attack the various thugs who seem to be popping up with frightening regularity.
Frustrated by his cowardice, Zenka turns up the heat. Her tactics become more bizarre, more illegal, and soon events begin to spin of control.
Meanwhile, Jack's accountant believes the letter is a lie and investigates.
Which is when the secrets come out – and now someone is going to pay with their life …

We all deserve to have some simple pleasure in our lives and whilst Zenka will never be categorised as classic literature, for sheer entertainment I found it excellent. Alison Brodie certainly knows how to build a story.
As I started reading her latest publication my first thoughts were that it was a little amateurish and stereotyped; an impression not helped by several typographic errors in my proof copy. However, within a few pages I was hooked and before I realised it the book had ended. The final 20% I consumed in an hour or so as the plot twisted with developments that I could not have imagined in a month of Sundays.
It is said "we know what we like and we like what we know". Brodie clearly appreciates that saying and has used familiar character types such as the hardened criminal Jack, the softie Nicholas and the tough pole dancing Zenka. All as expected, all believable and all with depth.
The action zips along in an easy to read style with plenty of chuckles and a few real belly laughs. On a couple of occasions the humour gets a bit slapstick, even verging on the ridiculous but each time the developing storyline kept me engaged. Although I didn't quite shed a tear there were some moments of great sensitivity. I also appreciated the running thread of Zenka's letters which interspersed the developing story.
Alison Brodie has written several other novels. I am sorry to say that I have yet to read any of them but I hope to do so in the future. For the fun it gave me Zenka was close to perfection and I have awarded four and a half stars.
Book Reviewer – Clive
---
Purchase online from:
---
About the Author

I am a Scottish lassie by birth and now live in France and Suffolk. My passion is writing. Before becoming an author, I was a photographic model, modelling for a wide range of products, including Ducatti motorbikes and 7Up. I was also the vampire in the Schweppes commercial with plastic teeth.
A catastrophic modelling assignment – where everything that could go wrong did go wrong – in the Scottish Highlands gave me the idea for my first book, Face to Face, which was then published by Hodder & Stoughton.
I have since written four more books: Wild Life, The Double, Brake Failure and ZENKA.
It's been a fun journey.





---
Share your thoughts in the comment section below!
The above links are affiliate links. I receive a very small percentage from each item you purchase via these link, which is at no extra cost to you. If you are thinking about purchasing the book, please think about using one of the links. All money received goes back into the blog and helps to keep it running. Thank you.