Catch Your Death by Kierney Scott – Book Review
Catch Your Death by Kierney Scott – Book Review
Catch Your Death
Author – Kierney Scott
Publisher – Bookouture
Pages – 278
Released – 15th April 2019
Format – ebook
Reviewer – Stacey
Rating – 5 Stars
I received a free copy of this book.
This post contains affiliate links.
The scene played over and over in his mind. He only had one choice left. He had to die.
Behind the high and imposing gates of a prestigious college, five students have taken their lives. All of them friends, all of them good kids, all of them dead within months of each other. When FBI Agent Jess Bishop is called in to investigate, what she discovers will make her just as vulnerable as the students she's trying to protect.
As Jess begins to unravel the secrets behind the deaths, she uncovers something much more sinister at the school and she is determined to find out who is at the centre of it.
Though her team think they're closing in on the ringleader, Jess becomes convinced they're going after the wrong person, forcing her to investigate on her own. Desperate to stop any more deaths, she risks everything by putting herself in the firing line. But just how far would she go to save the lives of those around her?

Special Agent Jess Bishop is back in the third book in the Jessica Bishop Series. In Catch Your Death Jess is asked by her boss to check in on her nephew seventeen-year-old Levi who attends a prestigious school called Gracemount Academy where the yearly fee is a staggering $50,000 as he rang her in a panic and she is out of the state and can't reach him.
Upon arrival at the school, the dorm warden leads to Levi's room but he's not there. After some investigating of the building he is found dead in the shower room, it looks like suicide.
The dorm warden starts babbling about this not being the first suicide at the school and that in the last five months five of the boys have all killed themselves.
On the hunt for some truths about what has been happening she is led to believe that an online social media game called 'The Last Supper' is leading these kids to kill themselves but Jess isn't convinced, things just don't add up. Trouble is whenever she gets close strange things happen, evidence goes missing, people turn up dead. Could someone be trying to sabotage her investigation?
What an amazing book. I read it in just a few hours and in one day, I just didn't want to put it down. From the opening scene, which will become clear later in the book, I was hooked.
Whilst there are three books in the series I have only read two of them, this one and book two 'Cross Your Heart' which I also awarded five stars. I really must go back and read book one.
What I love about this series is that Jess isn't your usual FBI agent, she has flaws, she pops pills likes sweets for an injury she sustained in the first book. She also has her own way of dealing with the pain! She is a woman that never gives up, she's had to grow up dealing with a lot of issues which in this book are thrown to the forefront as the person(s) try to stop her from doing her job.
Catch Your Death was intense and although you know from early on who is most likely trying to stop Jess, the bigger picture doesn't reveal itself until late in the book which is why I was so gripped to the pages, I needed to know. I also needed to know what the opening scene meant as I couldn't work out where it fitted into the story.
If you are after an edge of your seat, gritty, realistic thriller then give this series a read. Believe me, these books will have you yearning for more. I do hope that we will see Special Agent Jess Bishop again.
Book Reviewer – Stacey
---
Purchase online from:
---
About the Author

Originally from California, Kierney Scott lives in Edinburgh, Scotland with her husband and their daughter.
In her spare time she likes to read and invent new recipes. Her stuffed peppers are particularly popular with her family, as are her grain-free chocolate chip cookies. In an effort to convert her family to the joys of pumpkin, she created the Great Pumpkin Challenge. For the ten weeks before Thanksgiving, they tried a new pumpkin recipe every week. Pumpkin arancini and pumpkin queso were a big hit. She has promised her daughter to never again roast pumpkin and call them chips.

---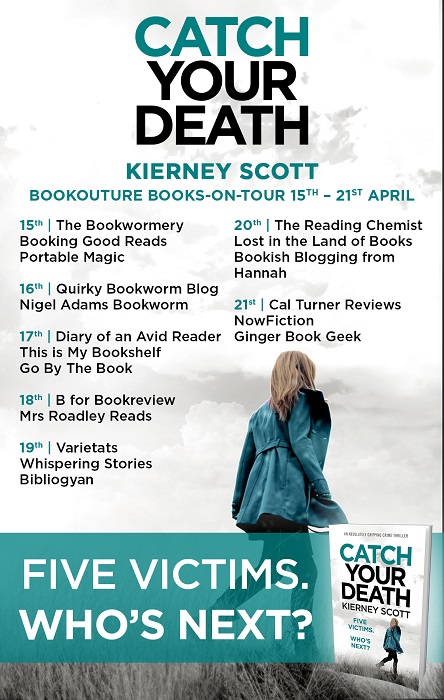 Share your thoughts in the comment section below!
The above links are affiliate links. I receive a very small percentage from each item you purchase via these link, which is at no extra cost to you. If you are thinking about purchasing the book, please think about using one of the links. All money received goes back into the blog and helps to keep it running. Thank you.