As Far as the Stars by Virginia Macgregor – Book Review
As Far as the Stars by Virginia Macgregor – Book Review
As Far as the Stars
Author – Virginia Macgregor
Publisher – HQ
Pages – 384
Released – 18th April 2019
ISBN-13 – 978-0008217327
Format – ebook, paperback, audio
Reviewer – Stacey
Rating – 4 Stars
I received a free copy of this book.
This post contains affiliate links.
How do you change what's already written in the stars?
Christopher is the sort of guy that no one notices, yet when Air catches sight of him making intricate paper birds in the airport, she can't look away.
But their worlds are about to collide in ways they never expected. Someone they love is on Flight 0217 from London Heathrow. And it's missing.
Convinced that her brother was on a different flight, Air drives them hundreds of miles across the country, on a trip that will change their lives forever.
But how do you tell the person you're falling for that you might just be the reason their life has fallen apart?

Ariadne (Air) is late for picking her brother Blake up from Dulles Airport. She was convinced he would be flying into Nashville but he texted her from someone's phone to say he would see her at Dulles (Washington DC). Blake is heading home from London, Heathrow to attend his and Air's sisters Wedding.
Upon entering the arrivals lounge Air notices that it is more crowded than usual and that her brother's flight hasn't arrived yet, the board has delayed written on it. After a couple of hours, the passenger's friends/relatives are moved into a room and informed that flight 0217 has gone missing and that there are people trying to locate it.
Christopher is sat waiting for his dad to arrive on the flight, in fact, his dad is the pilot. He's used to waiting around for his dad and has a novel way of passing the time. He makes paper birds. Air is mesmerised by Christopher's bird making and could watch him all day but she is convinced that her brother did not get on that plane, he was meant to get on a plane to Nashville.
Air can't stand it any longer and needs to get out of the airport. She makes a decision to drive to Nashville, where she is certain her brother will be. Christopher is fed up of being in the airport too and Air offers him a lift so he can go and see his mum.
This is the journey of two teenagers who are complete strangers but share a bond over their loved ones missing on fight 0217.
As Far as the Stars is a beautiful, evocative story following the lives of Air and Christopher. These two teenagers have come together and are leaning on one another for emotional support after the plane carrying their loved ones has gone missing.
When I first began reading I struggled a little with the voice as it is told from Air's point of view. At first, it felt a little young, the whole way in which she approached everything and her handling of situations. However, around four chapters in I found myself not wanting to put the book down. I don't know what changed, I think it may just have been me needing time to adjust to Air.
Air is highly strung, she's the youngest of three but always had to be the one to look after the others, especially her brother who liked to live in the moment. He's in a band which is in the UK touring, I presume it isn't very successful due to him needing Air to buy his airline ticket. Air is certainly a dedicated young woman and has got her life mapped out. She wants to be an astronaut.
Christopher was more subdued. He's spent his life being home educated and travelling with his airline pilot dad. Only in the past year has he attended a boarding school after his dad said he needed to get some qualifications behind him to succeed. You can tell that there is a strain between father and son. His mum left him with his father when he was a baby and he's rarely had contact with her since.
This is a novel that makes you think. It is exceptionally poignant and very emotional too. You can tell how much hard work went into creating such amazing characters that were both likeable and both unique. Over the four days that Air and Christopher's lives are thrown together in turmoil, you witness two strangers becoming firm friends and learning to trust and grow as individuals.
This is an extraordinary novel that had me turning the pages late into the night. The book has been written with such compassion for a devastatingly hard situation for anyone to go through, let alone two teenagers.
Book Reviewer – Stacey
---
Purchase online from:
---
About the Author

Virginia Macgregor was brought up in Germany, France and England by a mother who never stopped telling stories. From the moment she was old enough to hold a pen, Virginia set about writing her own, often late into the night. She was named after two great women, Virginia Wade and Virginia Woolf, in the hope she would be a writer and a tennis star. She never did make it to Wimbledon but her dream of becoming a writer has come true.



---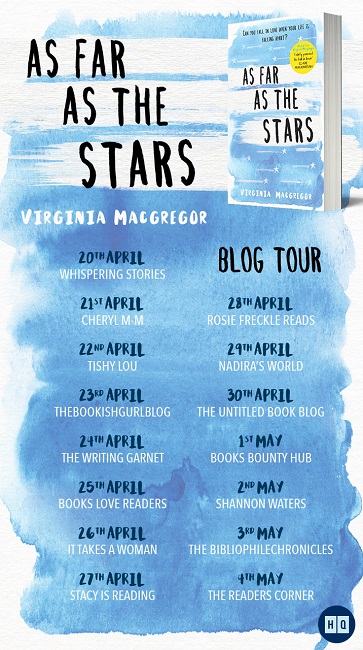 Share your thoughts in the comment section below!
---
The above links are affiliate links. I receive a very small percentage from each item you purchase via these link, which is at no extra cost to you. If you are thinking about purchasing the book, please think about using one of the links. All money received goes back into the blog and helps to keep it running. Thank you.