Cross Your Heart by Kierney Scott – Book Review
Cross Your Heart by Kierney Scott – Book Review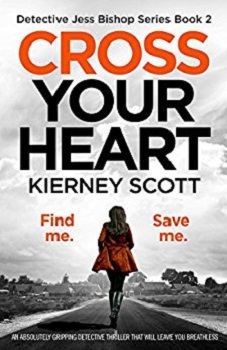 Cross Your Heart
Detective Jess Bishop Book Two
Author – Kierney Scott
Publisher – Bookouture
Pages – 242
Released – 25th April 2018
Format – ebook
Reviewer – Stacey
Rating – 5 Stars
I received a free copy of this book
Post contains affiliate links.
Three young girls are missing. All of them cold cases. All of them forgotten. But when Detective Jess Bishop identifies a disturbing link between them, she's determined to find out what happened, and fights to re-open their cases.
At the scene of each abduction the kidnapper left a clue – a small bag of candy – in place of the missing child.
And then a fourth child is taken. Eight-year-old Ava is snatched from her hospital bed and when a bag of candy is found in her room, Jessica knows it's the same kidnapper.
As the pressure to solve the case pushes Jess and her team to breaking point, Jess takes a personal risk she fears she'll live to regret. But she has no choice.
Out of hospital, Ava can only get sicker: Jess is running out of time. Can she find Ava before it's too late?

Special Agent Jessica Bishop has been on sick leave from the FBI after getting hurt in book one, 'Forget me Not'. Whilst off she refused to settle and relax and decided to go through some cold cases in which she discovered a few that seem to be linked. Three deaths of young girls, all with the same carpet fibres on them and more importantly blue cotton candy found under each of their nails.
On returning to work Jess wants to open up the three cases again, but no-one seems to be able to see the similarities. That is until another little girl goes missing. Eight-year-old Ava who has terminal cancer is taken from her hospital bed and a bag of blue cotton candy is left in her place.
Jess knows it is the same person and now people are taking her seriously. Can she find the killer before the body count rises?
I'll start by saying that I haven't actually read the first book in the series, 'Forget Me Not', which is a shame as it would have set me up to understand better what had happened to Special Agent Jess Bishop and her hand injury. Judging by the plot of this book, I missed a fantastic story. However, apart from some little details this book most definitely can be read as a standalone.
Kierney Scott certainly knows how to write an amazing thriller. This book had me captivated and on the edge of my seat the whole way through. The story was intense right from the off.
Special Agent Bishop is an incredible character. She is flawed, has lots of personal issues and is used to burying her emotions with night-time visits to men. They help numb her pain. She is also gutsy and has a strong determination and very focused on her job.
I like characters that aren't squeaky clean, they come across far more realistic. Jess was just a wonderful character to spend my time with.
When Ava, the eight-year-old dying from cancer is taken from her hospital bed by the serial killer I was really shocked. This isn't the kind of plot that you normally read about. Yes, young children kidnapped and murdered, but those that are already dying did make me think how ballsy the author was to take her story in that direction.
Normally with thrillers I get so far through them and then some hint is given and I know exactly who the 'culprit' is. This book kept me guessing right until the killer was revealed. I wasn't expecting it to be who it was.
Cross Your Heart is just fabulous. It's gritty, dark in places and gets under your skin, grabbing hold of you. I now need to read book one and hope for a book three.
Reviewed by Stacey
---
Purchase online from:
---
About the Author

Originally from California, Kierney Scott lives in Edinburgh, Scotland with her husband and their daughter.
In her spare time she likes to read and invent new recipes. Her stuffed peppers are particularly popular with her family, as are her grain-free chocolate chip cookies. In an effort to convert her family to the joys of pumpkin, she created the Great Pumpkin Challenge. For the ten weeks before Thanksgiving, they tried a new pumpkin recipe every week. Pumpkin arancini and pumpkin queso were a big hit. She has promised her daughter to never again roast pumpkin and call them chips.

---