The Night Drop by Ian D Wright – Book Review
The Night Drop by Ian D Wright – Book Review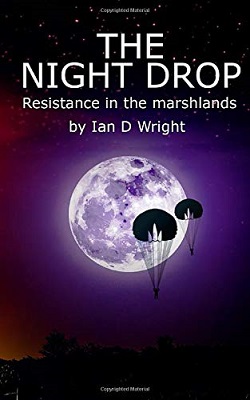 The Night Drop
Author – Ian D Wright
Pages – 251
Released – 2nd April 2020
ISBN-13 – 979-8631627444
Format – ebook, paperback
Review by – Linda
Rating – 5 Stars
I received a free copy of this book.
This post contains affiliate links.


The summer of 1943 and Jack Ross, a talented young recruit to the British special forces, was flown into a marshland village near St-Omer, France, along with Roland Keene, an Irish-American volunteer to the British forces. Their mission was to find out how successful the Allied bombing raids had been on the massive V2 flying bomb installations, which had been built under a giant concrete dome near St-Omer. The Nazi V2 project could have had a devastating effect on England and changed the future of the war.
Jack and Roland joined with the local Resistance cell and quickly established a good working relationship. But incidents occur that point to a mole in the ranks. Two feuding brothers, one in the Resistance, the other with the Partisans, make identifying the traitor almost impossible.
Jack's primary source of information was Sofia, a young girl who was one of the most active members of the group. She was brave, smart and tireless, and Jack found himself falling in love.
Twenty years later, in 1965, and one of the suspects decides to go back to the village to clear his name. His arrival immediately triggers a murder. Two investigative journalists agreed to help Jack tackle the job of finding the real mole but find themselves in a battle with a group of fanatical Nazi sympathisers.

What an amazing read!! Jack Ross a British Special force agent along with Roland Keene Irish/American volunteer to the British Forces were dropped near a village in St-Omer, France in 1943. We hear about their work with the Resistance Cell in their fight against the Nazi's, who had a site nearby with V2 flying bombs and it was their job to locate the launch site. The book then moves to 1965 when Jack asks two journalists to help him find out who was the mole all those years ago who got many members of the Resistance killed.
The Night Drop is extremely well written with attention to detail and amazing characters including Jack who was prepared to do anything to find out the truth, Sofia young yet so brave working for the resistance, and Roland, who captured my heart, was a trained officer who was there to support Jack. We also have Alain a farmer running the resistance cell determined to keep the villagers safe, as well as the two journalists, married couple Steve and Emily.
I haven't a favourite part of the book as I loved and enjoyed every bit of it. The plot had everything and more that you could ask for in a historical thriller. Historical facts, heart-stopping drama, excitement, sadness, and joy.
My interest was kept the whole way through. I had no idea how it would end and I loved all the twists and turns.
I will definitely be recommending The Night Drop by Ian D Wright, such an emotionally, heart-felt historical thriller, and I look forward to reading more from this author.
Book Reviewer – Linda
---
Purchase online from:
---
About the Author

After a lifetime of working in PR and Market Communications, I reached retirement and came to the inevitable question, 'What to do next?' I had spent my working life writing articles for business publications, copy for advertisements, brochures, video scripts. My wife, Sheilah, and I are both avid readers and during my younger years, I also wrote short stories for magazines. With time on my hands, I thought of writing a novel.
I also love music, particularly jazz. When I was young I played sax in a rock/blues band and, more recently, Sheilah and I formed a Jazz duo to raise money for charity.
As well as writing novels I enjoy travel and have visited many places throughout Europe and the USA. I enjoy watching cricket and football. Our son Ben and I have been season ticket holders at Watford FC for many years.
I have lived all my life in and around Peterborough, Cambridgeshire, UK and love the fens and North Norfolk coast.

---
What did you think of The Night Drop? Share your thoughts in the comment section below!
---
The above links are affiliate links. I receive a very small percentage from each item you purchase via these link, which is at no extra cost to you. If you are thinking about purchasing the book, please think about using one of the links. All money received goes back into the blog and helps to keep it running. Thank you.
Like us on Facebook – Tweet us on Twitter – Pin us on Pinterest