Ivon by Michael Aylwin – Book Review
Ivon by Michael Aylwin – Book Review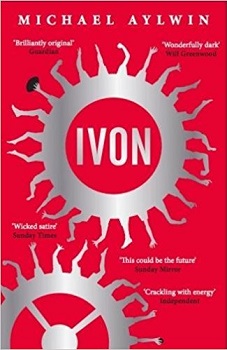 Ivon
Author – Michael Aylwin
Publisher – RedDoor Pub
Pages – 320
Released – 8th February 2018
ISBN-13 – 978-1910453469
Format – ebook, Paperback
Reviewer – Stacey
Rating – 4 Stars
I received a free copy of this book
Post contains affiliate links
The year is 2144, and the world is powered by sport – politically and practically. Each community owes its prosperity or otherwise to the success of its teams and athletes. A person's class is determined by their aptitude for sport. Once their useful life as an athlete has expired, they are placed in stasis at an age predetermined by that class.
But not in Wales.
Separated from the rest of the world by a huge wall, the Welsh still play games for joy. They play, they carouse, they love, they die. They have fun.
Of all the Welsh, the greatest sportsman is an unreconstructed genius called Ivon. When the chance arises to become the first Welshman to cross the great divide into England, he cannot resist. His parents, exiled from England before he was born, know what London will do to him. They are desperate to have him back. But London will not give up an asset like Ivon so easily.
Ivon is a celebration of where sport has come from and a satire on where it is going.

I'll be completely honest, Ivon was a difficult read at the start for me. I found the first chapter hard to understand as you are thrust straight into a story about a sportsman, Dusty Noble, at the end of his cricketing career without any real information as to what was happening. Dusty is granted some time to holiday and decides to travel beyond the fence into Wales, a country that is still living in the past, (Lapsed Era), where he meets Ivon, the son of two ex-sports people originally from London, who fled to Wales so they could be together.
Ivon is a young man who is also an exceptional sportsman that can play a multitude of sports. In 2144 the world (except Wales) is living in the Perpetual Era. Everything everyone does, including coitus, is done so that energy is generated, and of course sport generates the most. People have two chips in them, one for identification and the other to communicate without speaking out loud. Someone communicates to Dusty that he must bring Ivon back with him, but who and why?
I love dystopia books and this is the first one that has societies split in terms of sporting ability and people doing things to generate energy, not just because they want to. In Wales the world is just how it is today. People have fun, live together, drink alcohol and generally live their lives the way they want to. The complete opposite is how the people of the rest of the world have to live.
The book, although a satire, does look at the differences between the lifestyles and examines them to try and gauge which is best. I personally would rather live in Wales in the Lapsed Era than the Perpetual Era.
As I said at the start of my review. This isn't an easy book to get your head around and it takes some concentrations, but it is worth it in the end. If you love dystopias but are fed up of the usual plot lines that they follow, this book is a good alternative to try.
Reviewed by Stacey
---
Purchase online from:
---
About the Author

Michael Aylwin is a sports reporter for the Guardian and Observer. He lives in Southfields.

---