Visiting West Grinstead, West Sussex
Join Julie at West Grinstead
Hello to you all, Whispering Wanders Category is a sort of travel, come information section of our book blog, where we will be sharing with you our adventures, holidays, places of interest, etc.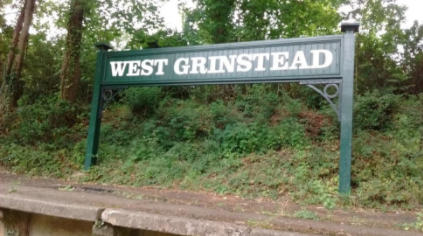 Location: Downs Link, West Grinstead, West Sussex
Duration: One and a half hours
Difficulty: Easy – suitable for buggies
Equipment: Walking shoes and a bottle of water
Suitable for: Walking, cycling, horse riding
Open: All Year
Cost: No charge
The Downs Link is a 38 mile (59km) footpath which connects the North Downs in Surrey with the South Downs in West Sussex, England. For railway enthusiasts, the path follows in the footsteps of two former lines; the Cranleigh line from Guildford in Surrey to Horsham in West Sussex and the Steyning line connecting Horsham to Shoreham-by-Sea. Both lines fell under 'Beeching's Axe' in the mid-Sixties, as part of a nationwide programme to reshape and streamline the railway network.
I visited West Grinstead for a postprandial Sunday afternoon walk and here are a few photos and a brief report of a very pleasant hour or so spent meandering along an attractive path from the site of the former West Grinstead Railway Station.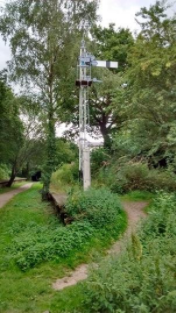 There is a carpark in the village and a footpath leading down to the surviving platform, as photographed right and on the other side of what would have been the track, is a signal which can still be operated.
I had to take several photos to get one without my son in the shot. If anyone's interested, he's hiding behind the pole.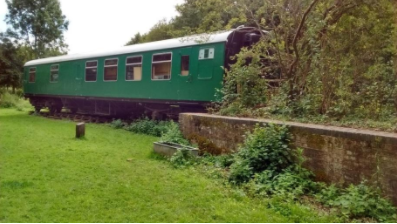 The station building is now a private residence but there is an original carriage to explore; a veritable treasure trove dedicated to memorabilia from the railway's heyday.
There are several wooden information posts for visitors to gain a better understanding of the artefacts. This one explains the purpose of a gradient post.

After spending half-an-hour exploring the old station area, we walked for about a mile along the path which was made up of compacted soil and shingle but firm under foot, although it might be muddy in wet weather.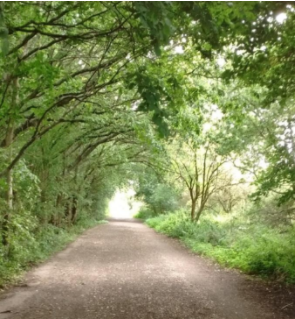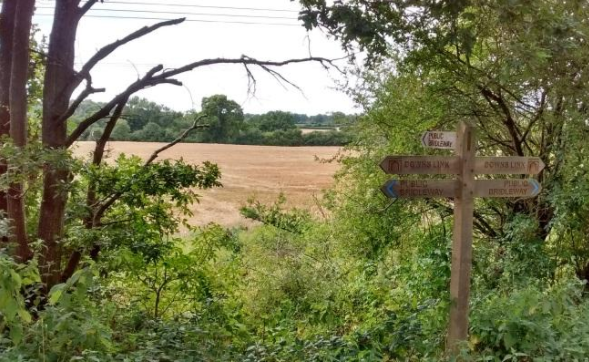 The area is a maze of public footpaths and if you go armed with an Ordnance Survey map, it would not be difficult to navigate a circular walk back to the car park. However, we retraced our steps and glimpses of beautiful countryside kept me thoroughly engaged. There was also an opportunity to stop for blackberries I'd missed previously!

The plant on the right is an Arctium, a biennial more commonly called Burdock. It is also known as a Velcro plant; if you get close to one, you'll find out why! They can also be dried and used in flower displays.
Just a word of caution, walkers need to keep their eyes and ears open as this path is also very popular with cyclists; most will give a friendly ding on their bell to make those on foot aware of their presence but stay vigilant to avoid a collision.
If you're a native of West Sussex or planning to venture to southern climes, this walk is a jolly good one for all the family and also absolutely free. There's a nice restaurant in the village of West Grinstead – 'The Orchard', serving breakfast, lunch and dinner, plus a good selection of cakes, if you want to replace the calories you've burned off.
Wherever you are, enjoy exploring your surroundings, stay safe and see you soon!
You can download a map giving you different routes to follow from – West Sussex Governmet Website