Holidaying at Bucklegrove Holiday Park in Somerset
Bucklegrove Holiday Park in Somerset with Stacey and Family
Hello to you all, Whispering Wanders Category is a sort of travel, come information section of our book blog, where we will be sharing with you our adventures, holidays, places of interest, etc.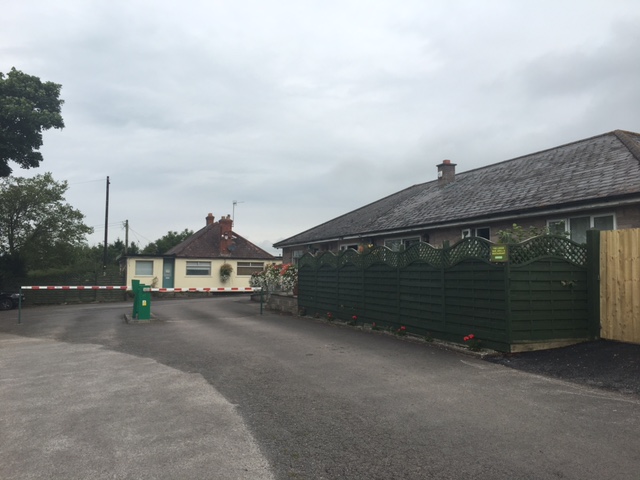 Bucklegrove Holiday Park is a beautiful caravan/tent site midway between Cheddar and Wells in the heart of Somerset, just off Wells Road (A371). It has magnificent views over the Mendip Hills and with it's rural setting is a great place to relax and enjoy a family holiday. It is also close to many wonderful sites to visit, including Glastonbury, Burnham-on-Sea, Bristol, Bath, and Weston Super Mare.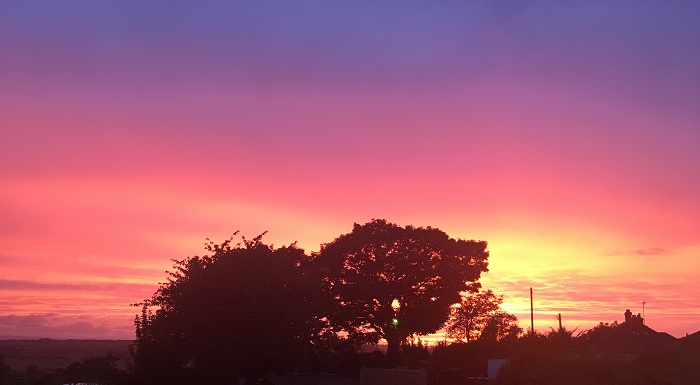 This year we decided to have a change from our usual summer holiday abroad, and try somewhere down south (we're in Manchester). Our youngest son Xander, wanted to go to Somerset – he's never been, he just likes the accent, so we agreed (well no-one else could make up there minds where to go).
Flicking through numerous holiday sites/cottages etc we opted for Bucklegrove and booked it through Hoseasons (you can also book direct with the caravan site). The reason for choosing this site was that it is right near to Cheddar which we were told we must visit, and Wookey Hole too.
We stayed for one week in August, and the weather was actually beautiful, it only rained for one morning. The site was easy to find, and clearly marked. On entering there is a car park to the left and the reception on the right, plus a barrier entrance directly in front, which you needed a key code to drive through.
After checking in, where the staff were very helpful, we were given the key to our caravan and a map of how to find it – wasn't difficult though as it was just around the corner from reception.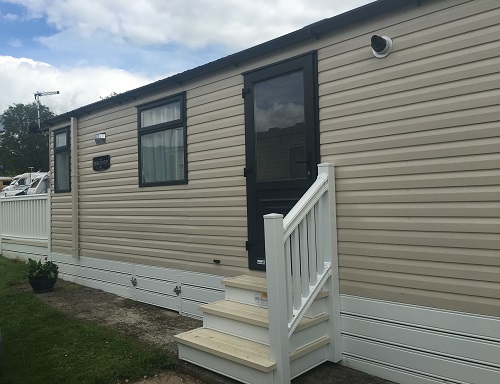 Now I've not stayed in a caravan for many years, I think our youngest child (11), was about 2 the last time we did. I was pleasantly surprised at the look of the caravan, an upon opening, the interior too. Boy, was it spacious. We'd opted for the Luxury 2 New for 2017 Caravan which is 12ft wide and has a veranda with outside furniture.
The kitchen was fully equipped with a big fridge/freezer, cooker with hob and oven, microwave, toaster, kettle, coffee maker and lots of utensils/trays/pans etc.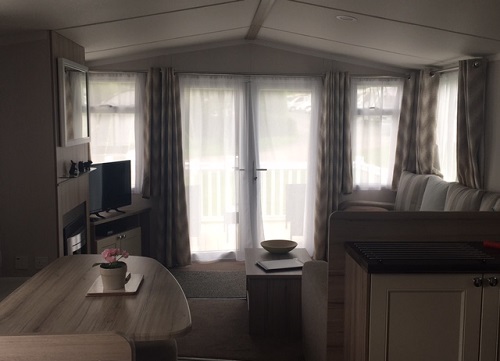 We then did the unpacking. Once sorted headed out into Well's (about 10mins drive away) to get some supplies from the supermarket and something for tea (for those down south, that is dinner to you).
After food, TV (Signal was good) and a few games – well you have to when on holiday, right? It was time for bed. Our room was lovely, big double bed, en-suite toilet, lots of storage space, dressing table etc. The kids room was quite small, and if I'm completely honest with you not big enough for my boys.
The site is made up of static caravans, wooden lodges, and spaces for tents, mobile homes, and personal caravans. Some also include hot tubs.
The holiday park also has a few facilities including:-
Small swimming pool (15ft x 32ft and 4ft 6ins depth) – The pools have no lifeguards
Baby pool (8ft x 10ft with depth of 2ft 6ins)
The Lodge – bar, grill and restaurant (eat in or take away)
Play area for little children
Small shop/reception area
Picnic Benches
Pool table (in bar)
Laundry room
Facilities room for campers
On-site passworded wifi.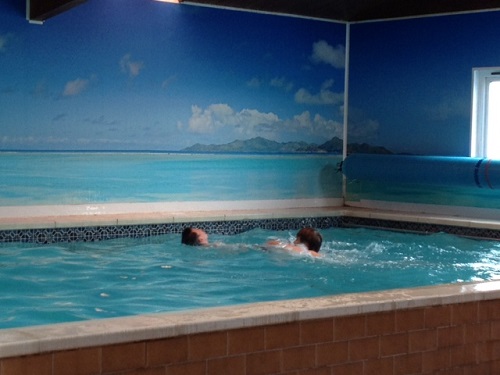 For those with personal caravans, mobile homes, there are electricity hook up points, and for campers there are shower blocks, including a disabled room, and water points too. Most campers are given a spot to pitch there tent in a field to the right-hand side of the caravan park that is just for tents.
The week we spent on the site was quiet – except for the busy road out front. There wasn't a great deal on the site for the kids to do (it is a relax and explore site), but we only really used the caravan park as a base as we went out exploring every day. The kids did use the pool daily though, and we took a badminton set with us (which hubby and youngest used the most), and some light up spinners that you fire in the air (football is not allowed on the site).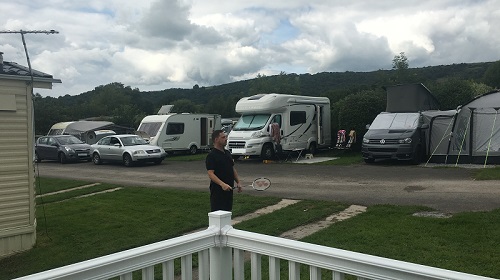 As you would expect on any site there were some positives and negatives which I have listed below.
Positive
Caravan:
It had free heating (the mornings are quite chilly in the countryside, even in August).
Clean
Spacious
Two toilets (one en-suite)
Beds comfy
Lots of storage space
Car parking right next to caravan
Thick curtains
Double Glazed
Flat Screen TV
DVD player
Iron and ironing board
Lots of plug sockets
Kitchen had all the utensils we needed
Large Fridge Freezer
Microwave
Outside picnic bench.
Site:
Quiet site
Clean
Friendly Staff
On-site heated pool – key coded to get in, so kids couldn't just wander in.
Negative
Caravan:
Squeaky doors (woke others up when using the bathroom in the night)
Caravans were close together, just enough room for the car in between
Kids room was small and the bed too small for my eldest (5ft 4in)
Constant electric shocks when on the veranda, and it overlooked the holiday park rather than the lovely views
Wifi didn't work in the caravan, had to sit on step outside to get any signal.
Site:
Pool not manned by staff (nor life guard). In the day a lot of children went in the pool, often far too many to be safe and although it has signs stating no jumping, most did – which is what kids like to do – but being so small this then caused problems.
Twice I saw a child get hurt by someone landing on them jumping in the pool. It really needs supervision. Plus it states no children are to enter without an adult over 18. There were a lot of kids in the pool without any adults with them.
Whilst I do understand that this is mainly the parents fault who disregard the rules and have no respect for other swimmers, I also feel that the staff need to do more to stop the above occurring.
Important Information
Contact Details:
Phone – 01749 870261
Email – [email protected]
Website – www.bucklegrove.co.uk
Twitter – @bucklegrove
Facebook – HolidayParkCheddar
Getting There:
Address – Bucklegrove Holiday Park, Wells Rd, Rodney Stoke, Cheddar. BS27 3UZ
Car – Just off the A371 – Wells Road
Train – Closest stations are: Highbrige & Burnham and Weston-Super-Mare.
Bus – Local bus runs from Weston-Super-Mare and stops right out side the site.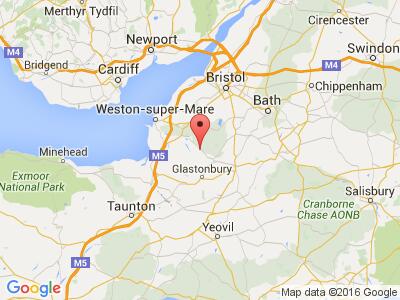 Check In/ Check Out Times:
In – From 12 noon for touring/camping pitches and 3pm for self-catering. If arriving after 9pm you need to pre-approve this with the site.
Out – 12pm
Those with Young Children:
Highchairs and cots available (self catering)
Heated baby pool
Children's play area
Facilities for Campers:
Family bathroom with full sized bath (£1 charge)
Baby changing area
Disabled shower room including, wc. Key entry (£5 refundable deposit)
Hairdryers (small charge)
Showers with large cubicles, changing space and clothes hooks (central heated in winter)
Wash hand basins with lighted mirrors
Toilets
Centrally heating in shower/bathroom during the colder months
Dish washing areas
Freezer for ice packs (not food)
Drinking water supply
Washing machines (£3 a wash)
Dryers are £1 (roughly lasts for 5 mins).
Shop:
Open daily between 9-5. Has a small selection of food (get there early for bread)
The Lodge Bar, Grill and Restaurant:
Licensed bar
Open between 31st March and October
During the summer months 'The Lodge' is open daily at various times (you do get given a times information sheet on arrival)
Saturday nights in August there is live entertainment
Open to non-residents too
Plenty of seating
Kids menu
Takeaway available.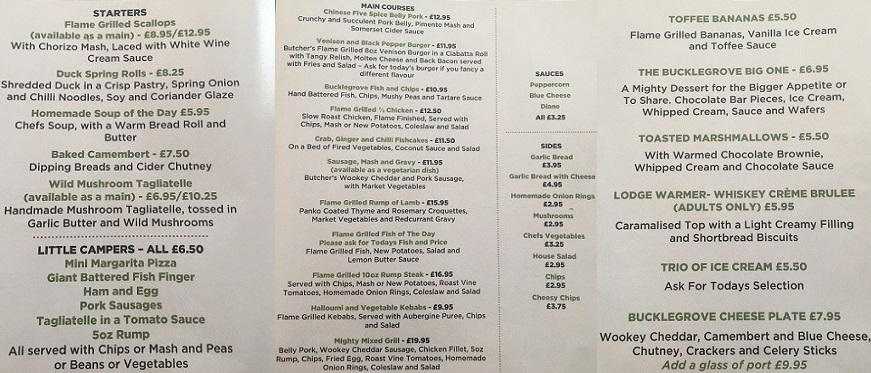 A Few Tips For You
– If booking your holiday through Hoseasons, use Quidco to get cashback (I got £40)
– Use the swimming pool later in the afternoon, mine went in from about 5pm for an hour, it was quieter than during the daytime
– Head towards Wells for your food shopping, where you will find Morrisons, Waitrose, and Tesco. Also a small park next to Morrisons.
– Just down the road (turn right out of the site) is 'Strawberry Fields' fruits, where you can buy a great selection of fresh fruits, veg and drinks. There are two of shops, the one closest to the caravan site is smallest, go slightly further down the road and you will come to a bigger shop.
– For those of you who like Simons Pegg or his Film 'Hot Fuzz', it was mainly filmed in Wells, (about 10 mins drive away, turn left out of the site). You can download/print a map online showing you all the locations that were in the film. Wells is also home to 'Wells Cathedral' and has a great market too open on Wednesdays and Saturdays.
– The sites not far from Clarks Outlet Village for your discounted clothes etc, it also has some lovely restaurants which stay open until late.
– You are only ten minutes from Cheddar (turn right out of the site) Lovely old fashioned village, great views and of course Cheddar Gorge Cave.
– Wookey Hole is roughly 20 mins away (turn left out of site). Bucklegrove is part of the Wookey Hole Resort and offers 25% off the entrance price.
– It will take you around an hour to get to Longleat Safari Park, which is definitely worth a visit.
– After somewhere cheap to eat? Morrisons supermarket has a cafe, open 8am-7pm (Mon-Sat), 9am-4pm (Sun)
– Cheapest Petrol Station, we found the one at Morrisons to be cheapest.
– There are a few takeaways in both Wells and Cheddar – chippy, kebabs.
Keep an eye on the blog over the coming weeks for reviews of some of the places we visited whilst in Somerset.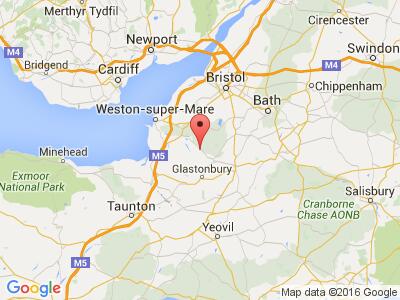 If you are thinking of holidaying at Bucklegrove and would like more information, want to ask any questions, or just want to leave us a comment, then please do so below. Thanks for reading.