The Day My Fart Followed Me To The Dentist by Ben Jackson – Book Review
The Day My Fart Followed Me To The Dentist by Ben Jackson – Book Review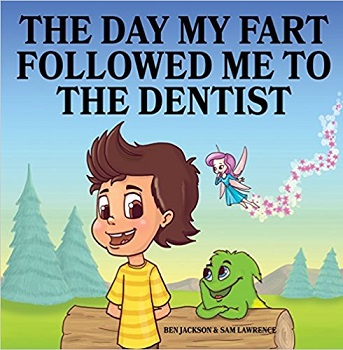 The Day My Fart Followed Me To The Dentist
Author – Ben Jackson & Sam Lawrence
Publisher – Indie Publishing Group
Pages – 28
Released – 15th July 2017
ISBN-13 – 978-1988656151
Format – ebook, paperback, hardcover
Reviewer – Stacey
I received a free copy of this book
Post Contains Affiliate Links
Timmy and his best friend the Little Fart are back again in The Day My Fart Followed Me To The Dentist! In this beautifully illustrated children's book you'll experience Timmy's first visit to the dentist, losing a tooth, and a visit from the Tooth Fairy.
No child loves the thought of a visit to the dentist. In The Day My Fart Followed Me To The Dentist, Timmy takes a trip to the dentist with his best, and imaginary, friend the Little Fart. Timmy needs to have a tooth removed and then needs to help to try and explain the Tooth Fairy to the Little Fart.
Whenever the Little Fart is involved, hilarity and mischievousness are sure to follow! The authors decided to publish this book to try and help parents and dentists show that the dentist doesn't have to be a bad experience. In the end, there is always the reward of receiving a visit by the magical and beautiful Tooth Fairy.
Review
Timmy and his best friend Fart are back; this time Timmy has a sore wobbly tooth and his mum tells him he needs to see the dentist.
The three of them set off together. Fart is surprised when the dentist removes Timmy's tooth and wonders what he is going to do with it. Timmy tells him about the tooth fairy and putting his tooth under his pillow.
Fart is intrigued and wants to stay awake to see the tooth fairy, but will he manage to stay awake long enough to see her, or will he fall asleep?
'The Day My Fart Followed Me To The Dentist' is one of a collection of books by Ben Jackson and Sam Lawrence about Timmy and his imaginary friend Fart. We previously reviewed 'The Day My Fart Followed Me To Hockey'.
All the books are beautifully illustrated with bold, bright colours and have a cartoon look to them. They are certainly eye-catching.
This book at only 28 pages is a bit shorter than the previous one, but that didn't take away the enjoyment, or mean that Fart got up to less mischief.
I can see kids loving the idea of having a smelly fart as a best friend. The story is engaging and entertaining from beginning to end. Another great book in an already popular series.
Reviewed by Stacey

---
About the Author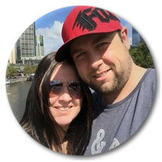 Ben and Sam currently live in Ontario, Canada.
Ben was born in Tasmania, Australia, while Sam was born in Toronto, Canada.
Between the two of them, they enjoy travelling frequently, and both have two children.
With three boys and one girl, they both enjoy spending quality time with their families, reading books, playing games and exploring both Canada and Australia.

---