The Day my Fart Followed Me to Hockey by Ben Johnson – Book Review
The Day my Fart Followed Me to Hockey by Ben Jackson – Book Review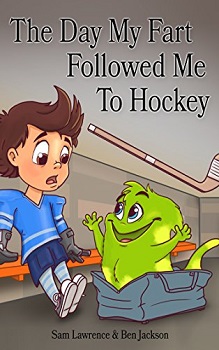 The Day my Fart Followed Me to Hockey
Author – Ben Jackson & Sam Lawrence
Publisher – Indie Publishing Group
Pages – 42
Release Date – 13th September 2016
ISBN-13 – 978-0995234024
Format – ebook, paperback, hardcover, audio
Reviewer – Stacey
I received a free copy of this book
Post Contains Affiliate Links

The Day My Fart Followed Me To Hockey is a beautifully illustrated journey of Timmy and his best friend the Little Fart as they attend Timmy's first hockey tryouts. Chaos and laughter ensue as the Fart attempts to help out his best friend the only way he knows how.
If you enjoy reading funny books with beautiful illustrations and love having your child read along with you, then make sure you grab The Day My Fart Followed Me To Hockey.
Discover and giggle along with Timmy and his best friend on their exciting day at the hockey arena!

The Day My Fart Followed Me To Hockey is the second book to feature Timmy and his friend 'Little Fart'.
Timmy is about to try out for the ice hockey team. He is very nervous, and Little Fart is doing all he can to help his friend. Then, Little Fart comes up with an idea. His idea doesn't quite go according to plan, but does get the whole team laughing, and makes Timmy feel at ease.
The book is a fun and exciting way to help children learn to cope with feeling scared or nervous.
Being the mother of three boys, and knowing how their minds work, I think that it would most likely be boys who would pick this book up. Boy's seem to find anything that contains 'bodily functions' amusing, and this book will be right up their street.
The Day my Fart Followed Me to Hockey is fantastically illustrated, a great story and has lots of humour in it, everything a children's book should have.
Book Reviewed by Stacey
Purchase Links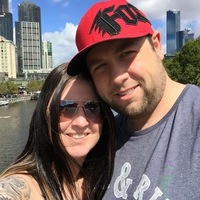 Ben and Sam currently live in Ontario, Canada. Ben was born in Tasmania, Australia, while Sam was born in Toronto, Canada. Between the two of them, they enjoy travelling frequently, and both have two children.
With three boys and one girl, they both enjoy spending quality time with their families, reading books, playing games and exploring both Canada and Australia.
Author Links