The Baker's Dozen by Aaron Shepard – Book Review
The Baker's Dozen: A Saint Nicholas Tale by Aaron Shepard – Book Review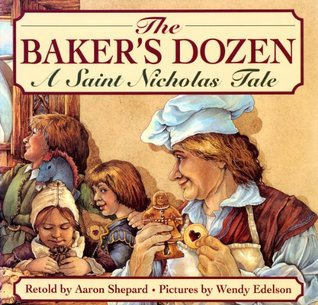 The Baker's Dozen: A Saint Nicholas Tale
Author – Aaron Shepard
Illustrator – Wendy Edelson
Publisher – Skyhook Press
Pages – 40
Release Date – 29th November 2016
ISBN-13 – 978-1620355039
Format – ebook, paperback, hardcover
Reviewer – Stacey
I received a free copy of this book

Van Amsterdam the baker was well known for his honesty as well as for his fine Saint Nicholas cookies. He always gave his customers exactly what they paid for — not more and not less. So, he was not about to give in when a mysterious old woman comes to him on Saint Nicholas Day and insists that a dozen is thirteen!
The woman's curse puts an end to the baker's business, and he believes it would take Saint Nicholas to help him. But if he receives that help, will it be exactly what he imagined?
Find out in this inspiring legend from Dutch colonial New York about the birth of an honored American custom.

The Baker's Dozen, is a modern take on a traditional tale of why a baker's dozen is thirteen and not twelve.
Van Amsterdam, runs his little bakery in Albany, New York, a Dutch Colonial. Every day he prepares his goods, and makes sure that he weighs out his ingredients perfectly, as he likes to be a very honest man and give nothing less, nor nothing more than what his customers are paying for.
In the lead up to Saint Nicholas day, which is celebrated on the 6th December, by the Dutch, Van Amsterdam was very busy. His famous Saint Nicholas cookies were selling very well. That is until an old lady comes in and asks for a dozen of them. He counts them out, twelve cookies, but she insists that a dozen in thirteen. When Van Amsterdam won't let her have thirteen for the price of twelve, she leaves, but not before telling him, 'Fall again, mount again, learnt to count again'.
Over the next year, his bread and cakes turn out badly and his customers start to go elsewhere. Has the old woman put a curse on him?, and how can he make his shop successful again?
I've never really given much thought as to why a bakers dozen is thirteen, but I love this folk tale about why it came to be.
The illustrations have an old feel to them, just like you will find in a traditional book. The story is attention grabbing, and has you thinking that sometimes doing just enough isn't good enough, and going that extra mile can make someones day.
A perfect book for the holiday season, that I'm sure young children will love.
Book Reviewed by Stacey
Purchase Links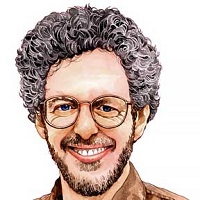 Aaron Shepard is the award-winning author of The Legend of Lightning Larry, The Sea King's Daughter, The Baker's Dozen, and many more children's books from publishers large and small. His stories have also appeared often in Cricket and Australia's School Magazine.
Aaron's speciality is retelling folktales and other traditional literature from around the world. His work has been honoured by the American Library Association, the National Council for the Social Studies, the American Folklore Society, the New York Public Library, and the Bank Street College of Education. His stories are enjoyed by a wide range of young readers—as well as by adults—and are perfect for reading aloud.
On the Web, Aaron maintains an extensive collection of resources for teachers, librarians, storytellers, children's writers, parents, and kids. His site has been viewed by over seven million visitors and has drawn over 25,000 visitors a week. Among its offerings is the Web's premier collection of free reader's theatre scripts, used in schools and libraries around the world.
Author Links