Nic Blake and the Remarkables by Angie Thomas – Book Review
Nic Blake and the Remarkables by Angie Thomas – Book Review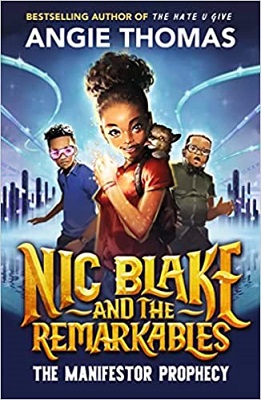 Nic Blake and the Remarkables
The Manifestor Prophecy
Author – Angie Thomas
Publisher – Walker Books
Release Date – 4th April 2023
Pages – 336
ISBN 13 – 978-1529506549
Format – ebook, paperback
Star Rating – 4
I received a free copy of this book.
This post contains affiliate links.

Synopsis
It's not easy being Remarkable in a world where standing out is dangerous…
Nic Blake is a Manifestor. All she wants is to learn the Gift, so she can be as powerful as her dad … until she discovers a shocking secret. Now she must find a powerful magical weapon, or risk losing him for ever.
Book 1 of Nic Blake and the Remarkables.
Twelve-year-old Nic Blake, is a Remarkable living with her Remarkable dad in an Unremarkable world. A Remarkable is someone with powers and an Unremarkable is someone without. (Think HPs wizards and muggles). Though there are lots of different types of Remarkables.
Nic has never known much about her mother as it has always just been her and her father. When her godfather gives her a pen that she can send messages to whoever she thinks of she decides to contact her mother, trouble is Nic's father hasn't been completely honest with her about why it is just them and her actions change the course of her life forever.
Nic Blake and the Remarkables is the first children's fantasy book from renowned YA author Angie Thomas. The book is aimed at middle-grade readers and follows Nic, her best friend JP, and Alex (no spoilers here for who he is) as they set out to help Nic's dad and two others who have been captured by Lore – the Remarkable's police force, by finding a precious and powerful item and return it to the Lore to prove Nic's dad is innocent of stealing it.
The story is adventurous and the plot is easy to follow as most things occur in the Unremarkable's world. The world-building was a bit of a let down though as I wanted to know so much more, however, with this being the first in a planned series hopefully those answers will come in further books.
Overall, this is another take on the middle-grade magical fantasy genre that has exploded over the last twenty years. Though it has more in common with the likes of Shadow Hunters than HP. I am now looking forward to the next instalment of Nic Blake.
---
Purchase Online:
Angie Thomas

Angie Thomas was born, raised, and still resides in Jackson, Mississippi as indicated by her accent. She is a former teen rapper whose greatest accomplishment was an article about her in Right-On Magazine with a picture included. She holds a BFA in Creative Writing from Belhaven University and an unofficial degree in Hip Hop. She can also still rap if needed.
She is an inaugural winner of the Walter Dean Myers Grant 2015, awarded by We Need Diverse Books. Her debut novel, The Hate U Give, was acquired by Balzer + Bray/HarperCollins in a 13-house auction. THE HATE U GIVE was adapted into a critically acclaimed film from Fox 2000, starring Amandla Stenberg and directed by George Tillman, Jr.
Author Links:
---
The above links are affiliate links. I receive a very small percentage from each item you purchase via these links, which is at no extra cost to you. If you are thinking about purchasing the book, please think about using one of the links. All money received goes back into the blog and helps to keep it running. Thank you.