The Girl in the Blue Blazer by Alretha Thomas – Book Review
The Girl in the Blue Blazer by Alretha Thomas – Book Review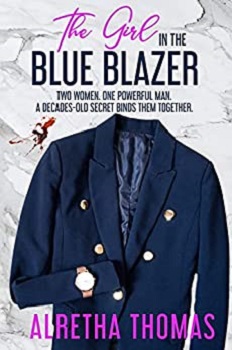 The Girl in the Blue Blazer
Author – Alretha Thomas
Publisher – Diverse Arts Collective
Release Date – 17th January 2023
Pages – 298
ISBN 13 – 979-8218135737
Format – ebook, paperback
Star Rating – 5
I received a free copy of this book.
This post contains affiliate links.

Synopsis
Two women. One powerful man. A decades-old secret binds them together.
In 2019, Pamela Carter is determined to secure her dream internship with billionaire businessman Andrew Clifford III.
Twenty-five years ago, in 1993, Andrew is just starting out. Without any of his later fame or fortune, the party boy becomes a legitimate hero when he intervenes to save assaulted Elizabeth Westlake. Sure, she's a waitress at a strip club, but that's not her dream. Elizabeth is determined to write her way out of the Harlem hellhole she lives in. Maybe Andrew is the ticket? Even the best-laid plans go awry, and for Elizabeth, tragedy looms.
Pamela is impossible not to notice and she soon becomes Andrew's prime intern. But, just as with Elizabeth, not all goes to plan. The stocks are plummeting. The company is careening. And then, Andrew himself goes missing. Will Pamela also be plunged into the tragedy that surrounds this man? Or is Pamela the one person who really knows what happened that fateful night in 1993? More than a company is at stake, as Andrew struggles for survival. But sometimes, the past is too powerful. Some secrets refuse to remain buried. Sometimes, truth kills.
Pamela Carter is young, pretty, intelligent, and determined. Determined, that is, to snag a prestigious internship with Clifford Investments, working closely with founder Andrew Clifford. She's so focused on winning the position that she's not above sabotaging a rival candidate.
Clifford Investments does select Pamela, but trouble develops almost immediately. When a proposed merger goes sideways, CI's stock tanks, and the potential merger target files a complaint with the Securities and Exchange Commission. Then Andrew Clifford goes radio
silent.
The Girl in the Blue Blazer has two narratives: one from the past and one from the present. Andrew appears in both. Sometimes he's charming and thoughtful; at others, manipulative. Then there are those times when the man is downright cruel. So, which is he, and who is he? Will the real Andrew Clifford please stand up?
Pamela is not a clueless innocent, merely along for the ride. She has an agenda of her own that the unfolding story slowly reveals. The reader learns a lot about her, but only over time. Andrew Clifford is richly defined as the hero-cum-villain, while other relatable supporting characters help move the story along.
Just as Pamala seems about to achieve her goals, her adversary blocks her. As the action approaches the climax, the advantage seesaws back and forth from success to setback. This happens often enough that the reader wonders who will come out on top.
In the end, however…. No, I won't tell you; you'll have to read the book and find out.
This skillfully told story held my interest from beginning to end. Readers who enjoy mystery and suspense will find this book well worth reading.
---
Purchase Online:
Alretha Thomas

Shortly after graduating from USC with a degree in journalism, Alretha soon realized her interest in her major was not heartfelt. Instead of writing news stories, she wanted to write plays and books. Several years later, her church gave her an outlet to fulfill her writing desires through their Liturgical Fine Arts Department wherein Alretha penned twelve theatre pieces—the community response was overwhelming. This led to plays outside of the church, including Alretha's One Woman, Two Lives, starring Kellita Smith (The Bernie Mac Show), directed by four-time NAACP Image Award Best Director recipient, Denise Dowse. The production garnered rave reviews from critics and audiences.
In between plays, Alretha self-published her first novel, Daughter Denied, in 2008 and has received glowing reviews from readers and book clubs across the country. Representing her book and plays, Alretha has been the guest on many radio shows and television shows including San Francisco Public Affairs show Bay Sunday with Barbara Rodgers on CBS affiliate, KPIX. She was also interviewed by KTLA News Entertainment Reporter, Sam Rubin. In 2011, Alretha self-published her second novel, Dancing Her Dreams Away, and it was also well received. Her third novel, Married in the Nick of Nine, spawned a four-book series that was acquired by Soul Mate Publishing in January 2014. The series has since reverted to her. In August 2014, Alretha was awarded the Jessie Redmon Fauset Literary Award for her indie novel, Four Ladies Only. In 2016, Alretha created the Detective Rachel Storme Mystery Series: Justice for Jessica, Losing Lauren and A Penny for Her Heart. In 2018 and 2019 Alretha debuted two additional mystery books—The Women on Retford Drive and The Truth About Gretchen, respectively. Her most recent novel is The Girl in the Blue Blazer.
Alretha is also an actress and can be seen in numerous commercials and television shows. She currently plays Anastasia Devereaux on Tyler Perry's Assisted Living that airs on BET.
Author Links:
---
The above links are affiliate links. I receive a very small percentage from each item you purchase via these links, which is at no extra cost to you. If you are thinking about purchasing the book, please think about using one of the links. All money received goes back into the blog and helps to keep it running. Thank you.