Force of Nature by Jane Harper – Book Review
Force of Nature by Jane Harper – Book Review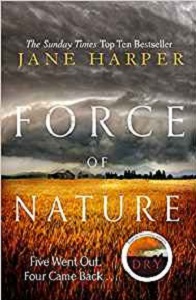 Force of Nature
Author – Jane Harper
Publisher – Little, Brown
Pages – 400
Released – 8th February 2018
ISBN-13 – 978-1408708200
Format – ebook, paperback, hardcover, audio
Reviewer – Stacey
Rating – 4 Stars
I received a free copy of this book
Post contains affiliate links
FIVE WENT OUT. FOUR CAME BACK…
Is Alice here? Did she make it? Is she safe? In the chaos, in the night, it was impossible to say which of the four had asked after Alice's welfare. Later, when everything got worse, each would insist it had been them.
Five women reluctantly pick up their backpacks and start walking along the muddy track. Only four come out the other side.
The hike through the rugged landscape is meant to take the office colleagues out of their air-conditioned comfort zone and teach resilience and team building. At least that is what the corporate retreat website advertises.
Federal Police Agent Aaron Falk has a particularly keen interest in the whereabouts of the missing bushwalker. Alice Russell is the whistleblower in his latest case – and Alice knew secrets. About the company she worked for and the people she worked with.
Far from the hike encouraging teamwork, the women tell Falk a tale of suspicion, violence and disintegrating trust. And as he delves into the disappearance, it seems some dangers may run far deeper than anyone knew.

BaileyTennants Accounting Firm had organised a corporate team building exercise in the Giralange Ranges, Australia, a dense woodland, with streams, waterfalls etc that stretches on for miles and miles. The Ranges were also once home to the notorious serial killer, Martin Kovac.
The firm had selected two separate groups for the exercise, a male and a female group, made up of four chosen employees and one company executive each. The challenge was to spend three nights in the Ranges, where the groups would have to navigate themselves from one side to the other with just a map and a compass. Camp sites had been arranged for each night with food and water left for the groups. They set off on Thursday afternoon, after handing in their mobile phones, and were to be out the other side by 12pm on Sunday.
When Sunday arrived the male group were out by 12, but the female group were nowhere to be seen. With panic setting in, relief was short lived when at 6pm the women emerged, albeit injured, but only four had returned, where was Alice Russell?
Force of Nature is a mild thriller, but one that kept me guessing the whole way through and I had come up with numerous reasons for Alice's disappearance. It had me hooked right from the start and I enjoyed every minute of it.
The book is split into two separate points of view, Federal Agent Aaron falks and his partner Carmen Cooper, and the women, with their POV time stamped too.
Agent Falks had been investigating BaileyTennants for suspected money laundering and Alice had been his inside informant, so he had a vested interest in the case, especially when he also received a call from Alice the night before, in which he thinks he can hear the words 'Hurt Her'.
As I was reading I kept on thinking, I know the name Aaron Falks, but couldn't place him, then it suddenly came to me. He was the Federal Agent involved in Jane Harper's first book, The Dry. I can't believe I got part way through the book before I realised they were connected.
The plot and the characters were both very realistic and I could perfectly visualise not only the people involved, but also the scenery which was so vivid. It felt at times that I was walking with the group, with the soggy wet ground making my feet cold, overgrown bushes and tree that whipped you as you past them. Branches snapping, making you nervous as to whether someone was watching, following you. Oh, and that rain that never seemed to stop.
Whilst I enjoyed the book from beginning to end and, I didn't guess what had actually happened to Alice, which is something unusual in thrillers, because I've normally worked out what happened by the time it is revealed, I also felt a little let down too.
I reached the end with unanswered questions and started to wonder whether I had missed the answers, but realised that there were so many of them, I couldn't of missed them all. Seen as this book is the second in a series I did wonder whether the answers would be revealed in the next book, but then except for Agent Falks, the first two books aren't connected, so I doubt this is the case, but you never know.
Force of Nature is a truly wonderful book. The storyline naturally and easily flowed as Ms. Harper's writing is superb. I fully invested my time and enjoyed every minute of it. I was actually sorry to reach the end as I was that involved in the plot. I now can't wait for the next in the series – Please tell me there is going to be a next?
Reviewed by Stacey
---
Purchase online from:
---
About the Author

Jane Harper was born in Manchester in the UK, and moved to Australia with her family at age eight. She spent six years in Boronia, Victoria, and during that time gained Australian citizenship.
Returning to the UK with her family as a teenager, she lived in Hampshire before studying English and History at the University of Kent in Canterbury. On graduating, she completed a journalism entry qualification and got her first reporting job as a trainee on the Darlington & Stockton Times in County Durham.
Jane worked for several years as a senior news journalist for the Hull Daily Mail, before moving back to Australia in 2008. She worked first on the Geelong Advertiser, and in 2011 took up a role with the Herald Sun in Melbourne.
In 2014, Jane submitted a short story which was one of 12 chosen for the Big Issue's annual Fiction Edition. That inspired her to pursue creative writing more seriously, and that year she applied for the Curtis Brown Creative online 12-week novel writing course. She was accepted with a submission for the book that would become The Dry and wrote the first full draft during the three-month course.
Jane lives in St Kilda with her husband and daughter.






---