Raymond by Yann and Gwendal Le Bec – Book Review
Raymond by Yann and Gwendal Le Bec – Book Review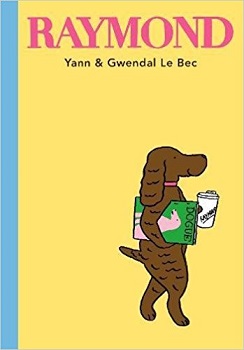 Raymond
Author – Yann and Gwendal Le Bec
Publisher – Walker Books
Pages – 32
Released – 1st February 2018
ISBN-13 – 978-1406378320
Format – paperback, hardcover
Reviewer – Stacey
Rating – 5 Stars
I received a free copy of this book
Post contains affiliate links
What if dogs could walk and talk and go to work? Well, Raymond the dog has big ambitions beyond his ordinary, canine life in the big city. He wants to take himself for a walk and get his own dinner. And when he's done all that? Well, he wants a job, just like his owners.
But when Raymond begins a high-flying journalism career at Dogue magazine, he soon realizes it's no walk in the park… With a stylish limited palette and incredible visual humour, children and adults alike will fall in love with Raymond and his laugh-out-loud antics in this absurdly original – yet highly relatable – world.

Raymond is a happy dog. He likes having his belly rubbed and snuggles on the sofa, but one day he realises that he wants more out of his life, he wants to be just like a human. He wants to sit at the table and eat with his family and walk on two legs, not four. Raymond hadn't only begun to act like a human, he'd started a trend. All the other dogs wanted to be just like a human too.
His ambitions didn't stop there, he wanted to be a reporter for Dogue magazine, which in turn made him famous and he became the face of the biggest dog television programme. Being famous and working hard had its downfalls though.
Is Raymond happy being like a human or, would he rather just be a normal dog again?
Raymond, is a large sized book (just over A4 size), that not only contains a wonderful, imaginative story, but is filled to the brim with bright and colourful, full page illustrations.
The story is hilarious and although this is a book aimed at young children, a lot of the fun references only a grown up would understand – think Toy Story.
This would be a wonderful book to read as a bedtime story, or even as a class read. I can see kids being amused and amazed at a dog that wants to be a human. I thought it was brilliant, and would be happy to recommend it to everyone.
Reviewed by Stacey
---
Purchase online from:
---
About the Author
Gwendal Le Bec and Yann Le Bec are artistic brothers from Brittany, France, who have both pursued careers in illustration. Gwendal graduated from the Paris School of Fashion, Design and Creation in 2008, before going on to make books with French children's publishing houses, Gallimard Jeunesse and Albin Michel Jeunesse. He has also worked on editorial and advertising projects, his clients including The New Yorker, The New York Times and Feuilleton.
Yann is a graduate of the Royal College of Art, London, who has illustrated an edition of Clive James Unreliable Memoirs and has been commissioned by clients including Esquire and King's College London.
The siblings joined forces on the picture book Danny, and, along with fellow French illustrator and good friend Jean Jullien, founded the blog, News of the Times. Yann and Gwendal now live in London.



---