Super Narwhal and Jelly Jolt by Ben Clanton – Book Review
Super Narwhal and Jelly Jolt by Ben Clanton – Book Review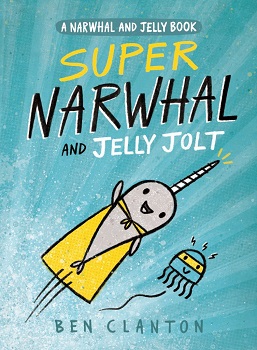 Super Narwhal and Jelly Jolt
Author – Ben Clanton
Publisher – Egmont
Pages – 64
Released – 2nd May 2019
ISBN-13 – 978-1405295314
Format – ebook, paperback
Reviewer – Stacey
Rating – 5 Stars
I received a free copy of this book.
This post contains affiliate links.
Narwhal and Jelly are back in action for a SUPER adventure – join Super Narwhal and sidekick Jelly Jolt in three awesome underwater adventures!
Happy-go-lucky Narwhal and no-nonsense Jelly find their inner superheroes in three new under-the-sea adventures. In the first story, Narwhal reveals his superhero alter-ego and enlists Jelly to help him figure out what his superpower is. Next, Narwhal uses his superpower to help a friend find his way back home. In the third story, Jelly is feeling blue and Narwhal comes to the rescue.
A wonderfully silly early graphic novel series featuring three short stories and super fun ocean facts and jokes!
Review
In the second book in the Narwhal series by Ben Clanton, Narwhal has decided that he wants to be a superhero. He has the costume, the secret identity, and even the best superhero side-kick – Jelly Jolt. However, he doesn't know what his superhero power is.
This is just the first of four stories in the wonderful kid's book filled to the brim with amusing moments and amazing illustrations. In the second story, Narwhal finds a star on a rock and is certain it must have fallen out of the night sky. But how can he get it back?
The third will have you properly laughing-out-loud as Narwhal and Jelly write their own superhero story featuring Super Waffle and his side-kick Strawberry – Well the two do love waffles and what better food is there to save the planet?
The last story features a sad Jelly. Narwhal takes it upon himself to cheer Jelly up but how should he proceed and will he be able to make Jelly happy again?
The whole book is enjoyable from beginning to end and I laughed just as much as I did throughout the first book, 'Narwhal: Unicorn of the Sea!' Sometimes children just need something that they will find amusing, something to give them the giggles and put a smile on their faces and I believe these books will do just that.
They do have wonderful messages for children regarding friendship and using your imagination too. They are quick to read but I can see them being read over and over again.
Book Reviewer – Stacey
Purchase online from:
---
About the Author

I'm Ben! I'm a children's book authorstrator (best known for the Narwhal and Jelly books) as well as an editor-at-large for the Little Bigfoot imprint of Sasquatch Books. I have spent most of my time on this planet reading, drawing, playing basketball, gardening and eating waffles.
I live in Seattle, WA with my wife Kelsey (a photographer and designer), son, daughter, and a wild goldendoodle named gigi (aka Wookie).





---
The above links are affiliate links. I receive a very small percentage from each item you purchase via these link, which is at no extra cost to you. If you are thinking about purchasing the book, please think about using one of the links. All money received goes back into the blog and helps to keep it running. Thank you.