Blind Influence by Linda Riesenberg Fisler – Book Review
Blind Influence by Linda Riesenberg Fisler – Book Review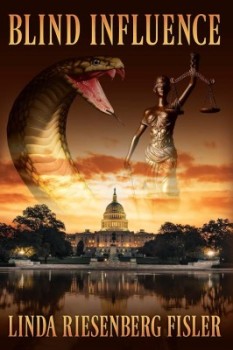 Blind Influence
Author – Linda Risenberg Fisler
Publisher – Dog Ear Publishing
Pages – 272
Release Date – 30th March 2015
Format – ebook, audio
Stacey
Rating – 4 Stars
I received a free copy of this book
Contains affiliate links

Successful, sexy attorney Nicole Charbonneau feels content with her life and career as a star at a powerful law firm in Washington, DC.
She is blind, however, to the circumstances that will put her at the centre of a web of deceit, murder, power plays and conspiracies.
Across the ocean, British MI-6 Agent Sean Adkins is tracking a cold-blooded assassin known as the Serpent, who's been hired to kill President Andrews. The Serpent cares only for the millions he'll get, not why the powerful group of men wants Andrews killed.
The Serpent, a master of disguise, completes his job, but will it be his last? Sean will stop at nothing to get revenge, which includes setting a trap. Nicole, through her work and her connection with Robert Jenkins, a powerful young senator who happens to head the Intelligence Committee, pieces together who hired the assassin.
Will the senator reveal to the public all he knows, or will revealing the identities of the powerful businessmen, politicians and government officials be too much for a country already in a fragile state?
Blind Influence, set in 1979 when the United States was on the brink of its second oil crisis, takes readers on a wild ride of political intrigue and personal discovery.

Blind Influence has something for everyone. There is suspense, action, cat and mouse chases, murders, investigations, back stabbing, mystery and much more.
It is set in a political world with the President, Vice President and Senator's all having a role. The book switches between London and the USA. It immerses you in the politics of Washington DC, yet doesn't get so overly complicated that you won't understand what is going on.
Nicole Charbonneau, the protagonist, is feisty, fearless, determined, wise and intelligent, mixed in with an air of sophistication and sexiness. She is a lawyer, a brilliant lawyer, tackling high profiled cases, but her luck changes when she witnesses the Serpent kill her friend Carol, she has seen his face and can place him at the scene, which makes her one of his targets, but she won't be taken down easily, and certainly not without a fight.
Sean Adkins is an MI-6 agent tracking the deadly Serpent, to bring him to justice, not just for the people he's about to kill but for his family who fell victim to him. His calling card is to fork the tongues of his victims, and he doesn't care who you are, male, female, young or old, if you're on his radar there is little chance of survival. He's ruthless and cold blooded, and every bone in his body is evil.
The plot is engrossing and gripping and totally nail biting in parts. It had me on the edge of my seat at various points in the story, yet I found it thoroughly entertaining. There are twists and turns throughout, and the story deviated numerous times from the path that I thought it was travelling on.
This is Linda's début novel, though you wouldn't know from her writing. The book is powerful and hits you right from the first page. It sucks you in and holds you in its pages.
There are a lot of characters in the book and it is full of dialogue, which I feel is the only downside, but this doesn't take anything away from the amazing plot.
Blind Influence reminded me a lot of Robert Ludlum's Jason Bourne novels, but in a more political and gritty manner.
The ending opens the book up for a sequel and I feel that there is a brilliant film waiting to be made from this novel.
If you love spy thrillers, you'll love Blind Influence.
Book Reviewed by Stacey
Purchase Links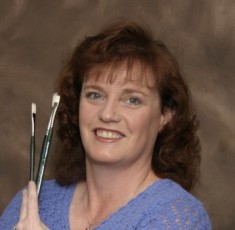 When Linda Riesenberg Fisler isn't working on her next book she is painting in her studio or riding her Trek bicycle along the many bike trails of Ohio.
The former Fortune 500 consumer products manager explores art through her worldwide Internet radio show, "Art Chats with Linda Fisler".
Linda has been creative since childhood, writing stories and scripts of movies and TV shows to entertain friends. She discovered oil painting in the 1990s and began trying to express words visually.
Writing "Blind Influence" helped Linda realize she had been blind to letting others run her life, so she began to transition to the more artistic life she has today.
In addition to The Blind series of books, Linda has created a fantasy book based on her exploration of spirituality. She hopes readers will learn how to open their own eyes instead of blindly following the expectations of those around them.
Author Links