Dangerous Deception by Kami Garcia & Margaret Stohl – Book Review
Dangerous Deception by Kami Garcia & Margaret Stohl – Book Review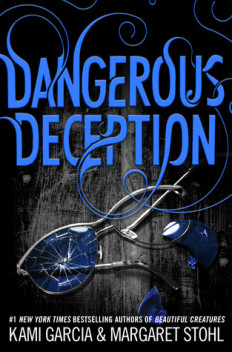 Dangerous Deception
Author – Kami Garcia and Margaret Stohl
Publisher – Penguin
Pages – 320
Release Date – 19th May 2015
Format – ebook, paperback, hardcover, audio
Reviewer – Stacey
Rating – 5 Stars
Contains affiliate links

Some loves are curse, others are dangerous . . .
Especially the love between wannabe rocker and quarter Incubus, Wesley 'Link' Lincoln, and Dark Caster, Siren, and bonafide bad girl, Ridley Duchannes.
But now Ridley is missing, and Link was with her right up until she vanished. Determined to find her, Link reunites with his New York bandmates and the mysterious Lennox Gates, who wants Rid for himself.
Together they travel to the deep south, find the crossroads where blues guitarist Robert Johnson made his deal with the devil, discover a menagerie of Casters locked in cages, and uncover an evil in New Orleans that threatens to destroy them all.
This time, love might not be enough.

Once again Kami Garcia and Margaret Stohl have co-written a gripping and beautiful book, the second in the 'Dangerous Creatures' series.
After everything that happened in New York, Ridley and Link are heading down the highway, only just managing to escape with their lives. With the Big Apple behind them, they are looking forward to a future together, that is until 'Stairway to Heaven' starts playing on the radio. Out of nowhere they are hit by a big Raptor truck, and Ridley has vanished.
Lennox Gates (Nox) is also trying to get away from Silas Ravenwood. That is who has him locked in the trunk of his SUV. Silas and his Darkborns are after his blood after he helped Ridley escape from the fire at his nightclub, Sirene. With the help of his own Darkborn, Sampson, Nox manages to escape, but he's got more important things on his mind. He's having visions of Ridley still not being safe. He might have saved her from his club, only for her to be in even more danger.
On finding Link's beater, the car is a mess, but neither Link nor Ridley are to be seen, until Lucille Ball, makes an appearance and takes them to Link. However Link isn't much use as he was knocked unconscious and doesn't know where Ridley is himself. All he knows is that he needs to find her, and fast.
I love the whole 'Beautiful Creatures' series of books, and the two books in the "Dangerous Creatures" series are proving to be just as amazing.
'Dangerous Deception' is everything I hoped it would be. I wasn't sure where Kami and Margaret would take Ridley and Link's story, and by separating them, they have created an intriguing, page-turner of a novel.
The book is fast paced and engrossing, and I found myself reading the book everywhere I had the opportunity. To me it, was the kind of book that you can get lost in, and even though I was sat on public transport at times reading, the background noise and people became a blur as I tuned in to the book entirely.
The story is told in what feels like two sections. You have Nox and Ridley, then Link, Floyd, Sampson and Necro along with Liv, John and Lucille Ball, who are characters from the Beautiful Creatures series (even Amma makes an appearance).
My favourite character is Nox and we get to see so much more of him. He brings the story alive. I love a dark caster with a heart. He has a burning passion to be with Ridley and for her to love him the way she loves Link. He cares so much about her that he's willing to put his own feelings to one side, as long as she is happy.
The whole 'Beautiful Creatures' and 'Dangerous Creatures' books are addictive and compelling, but to fully understand Ridley and Link's story, you really need to read the series from the beginning.
Purchase Links