Feathertide by Beth Cartwright – Book Review
Feathertide by Beth Cartwright – Book Review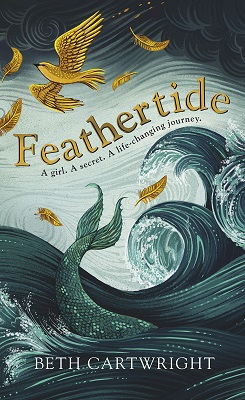 Feathertide
Author – Beth Cartwright
Publisher – Del Rey
Pages – 432
Released – 30th July 2020
ISBN-13 – 978-1529100662
Format – ebook, paperback, hardcover
Review by – Stacey
Rating – 4 Stars
I received a free copy of this book.
This post contains affiliate links.


Born covered in the feathers of a bird, and kept hidden in a crumbling house full of secrets, Marea has always known she was different, but never known why. And so to find answers, she goes in search of the father she has never met.
The hunt leads her to the City of Murmurs, a place of mermaids and mystery, where jars of swirling mist are carried through the streets by the broken-hearted.
And Mara will never forget what she learns there.

After a night of passion with a man she had only just met and didn't even catch his name in the City of Murmurs Leman finds that she is pregnant. Marea is born in the whorehouse that Leman lives in. She is born with feathers on her shoulders and to keep her away from the prying eyes she is brought up in a basement room where she lives with her mother and has a tutor.
She is only allowed out once a year and granted one wish she can put in her wish jar. On her seventeenth birthday, her wish is for her freedom. She wants to travel to the City of Murmurs to try to locate her father. All she knows is that he came in a mist, had feathers too, and was a sky-worshipper.
Feathertide is a very unusual book. It certainly took me out of my comfort zone as I'm not really a fantasy fan and this was filled with fantasy, mystery, and magic.
The story is told in the first person, from Marea's point of view of her life growing up in the whorehouse. Getting to see the world outside of the basement for the first time and then onto her adventure to find her father.
It took me a little while to get into the plot and at one point about four chapters in I did think about giving up but I'm glad that I pushed through as it does come alive and invite you into this weird yet satisfying story. It is quite a slow-build plot though so be prepared if you prefer fast-paced ones.
There are some amazing characters along the way my favourite being the Keeper of the Hours who not only kept the time but seemed to be the caretaker for the City of Murmurs.
If you are a fantasy fan then I think you will love this book. If like me fantasy isn't your go-to-read, but the synopsis grabs you, give it a read anyway but make sure you stick with it as it has a kind of poetic feel to it. The world-building is so precise and imaginative that it will make you realise just how creative the author is.
Book Reviewer – Stacey
---
Purchase online from:
---
About the Author

Beth Cartwright has taught English in Greece and travelled around South East Asia and South America, where she worked at an animal sanctuary. A love of language and the imaginary led her to study English Literature and Linguistics at Lancaster University, and she now lives on the edge of the Peak District with her family and two cats. Feathertide is her debut novel.


---
What did you think of Feathertide? Share your thoughts in the comment section below!
---
The above links are affiliate links. I receive a very small percentage from each item you purchase via these link, which is at no extra cost to you. If you are thinking about purchasing the book, please think about using one of the links. All money received goes back into the blog and helps to keep it running. Thank you.
Like us on Facebook – Tweet us on Twitter – Pin us on Pinterest