Between Worlds by Kevin Crossley-Holland – Book Review
Between Worlds by Kevin Crossley-Holland – Book Review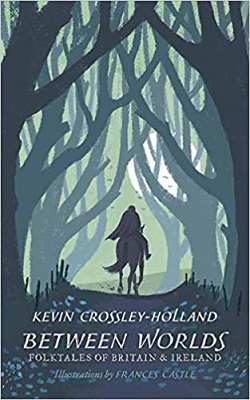 Between Worlds
Folktales of Britain and Ireland
Author – Kevin Crossley-Holland
Publisher – Walker Books
Pages – 352
Released – 1st August 2019
ISBN-13 – 978-1406383096
Format – ebook, paperback, hardcover, audio
Review by – Stacey
Rating – 4 Stars
I received a free copy of this book.
This post contains affiliate links.


Rich and strange, these eerie and magical folktales from across Britain and Ireland have been passed down from generation to generation, and are gathered together in a definitive new collection from the master storyteller and winner of the Carnegie Medal, Kevin Crossley-Holland.
Dark and funny, lyrical and earthy, these fifty stories are part of an important and enduring historical tradition that dates back hundreds of years. Described by Neil Gaiman as the "master", Crossley-Holland's unforgettable retellings will capture the imagination of readers young and old alike.

Author Kevin Crossley-Holland has done his research into folktales from Britain and Ireland and compiled them into one book featuring forty-eight different short stories split into six different themes, including Magic and Wonder, Adventures and Legends, Fairies and Little Peoples, Love, Wits, Tricks and Laughter and Ghosts.
It took a while to go through each of the stories and I was hoping that at some point in the book I would have that moment when one of the stories would resonate with me and I would remember being told the tale as a child, but alas that moment never came. At forty-two I can quite confidently say I have never heard of any of these stories before, so I don't know whether that makes me ill-educated or these folktales are tales that are not that well known, or only know in certain parts of the country?
Some of the stories were interesting and are stories I will remember for a long time to come, others were boring and I wanted to give on on them. There were also a few where I struggled to understand the meaning behind them such as the first story in the book 'The Dark Horseman'. My favourite came right near the beginning, in fact, it was the second story called 'Three Heads of the Well' and was about two princesses and teaches us about being kind to others less fortunate than ourselves as you never know what is around the corner.
The book is also filled with fabulous black illustrations by Frances Castle which look remarkable mixed in with Kevin Crossley-Holland's words and give the book plenty of charm.
If you love folktales or stories that speak to you then Between Worlds is the book to pick up. It is not one I would advise sitting and reading in one go, nor is it a book you have to read in order, just pick and choose your tales whenever you feel in the mood.
Book Reviewer – Stacey
---
Purchase online from:
---
About the Author

Kevin Crossley-Holland is a well-known poet and prize-winning author for children. His most recent books are Heartsong, with Jane Rey, a new collection of Poems, The Breaking Hour, both published last year, and The Riddlemaster, published in June 2016.
The Seeing Stone won the Guardian Children's Fiction Award, the Smarties Prize Bronze medal, and the Tir na n-Og Award. His Arthur trilogy has won worldwide critical acclaim, sold well over one million copies, and been translated into twenty-five languages.


---
What did you think of Between Worlds? Share your thoughts in the comment section below!
---
The above links are affiliate links. I receive a very small percentage from each item you purchase via these link, which is at no extra cost to you. If you are thinking about purchasing the book, please think about using one of the links. All money received goes back into the blog and helps to keep it running. Thank you.