Haven't They Grown by Sophie Hannah – Book Review
Haven't They Grown by Sophie Hannah – Book Review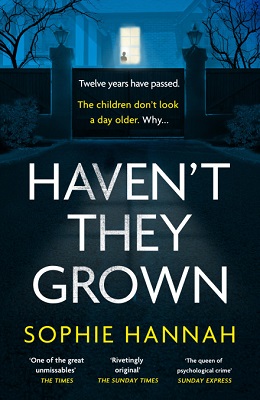 Haven't They Grown
Author – Sophie Hannah
Publisher – Hodder & Stoughton
Pages – 336
Released – 23rd January 2020
ISBN-13 – 978-1444776195
Format – ebook, paperback, hardcover, audio
Review by – Stacey
Rating – 4 Stars
I received a free copy of this book.
This post contains affiliate links.


All Beth has to do is drive her son to his Under-14s away match, watch him play, and bring him home.
Just because she knows that her former best friend lives near the football ground, that doesn't mean she has to drive past her house and try to catch a glimpse of her. Why would Beth do that, and risk dredging up painful memories? She hasn't seen Flora Braid for twelve years.
But she can't resist. She parks outside Flora's house and watches from across the road as Flora and her children, Thomas and Emily, step out of the car. Except…
There's something terribly wrong.
Flora looks the same, only older – just as Beth would have expected. It's the children that are the problem. Twelve years ago, Thomas and Emily Braid were five and three years old. Today, they look precisely as they did then. They are still five and three. They are Thomas and Emily without a doubt – Beth hears Flora call them by their names – but they haven't changed at all.
They are no taller, no older.
Why haven't they grown?

Husband and wife Beth and Dom used to be best friends with couple Flora and Lewis. Their children were roughly the same age, apart from Flora's youngest Georgina who was only a few months old when they all lost touch.
Lewis came into some money and the family moved away to St Ives. Twelve years had passed by and although Beth had tried to keep in contact nothing had come of it. She had also tried to see their new home on Google Maps but they lived on a private road.
An opportunity came for Beth when her son had a football tournament near to Flora and Lewis's house, so after dropping her son off Beth goes for a quick nosy around and it isn't long before she sees Flora arrive in her flash Range Rover. However, nothing could have prepared her for the sight she was about to see next. Thomas and Emily, Flora's children climb out of the car but they don't look any different. They are still the same age as they were twelve years ago.
Beth is astounded and confides in her husband and ear-wigging daughter Zannah, but can they put all the pieces together and come up with a plausible reason why the children hadn't aged?
Haven't They Grown is a suspenseful novel that really plays with your mind. Some of the explanations that I had tried to come up with were the same as what the family did, could Flora and Lewis's children have died and they had more and called them by the same name. Could there be a supernatural element to the book or even a scientific one given that both Flora and Lewis are Scientists in their own field?
The plot takes you in many directions and throws in a few curveballs too. The suspense waiting to find out why these children were so young had me on the edge of my seat, though I wasn't prepared for the real reason or even for the reason that the families hadn't spoken to one another for twelve years.
If you like books that make you think outside of the box and are mysterious then this is the book for you. It is beyond realistic but it is a damn good read.
Book Reviewer – Stacey
---
Purchase online from:
---
About the Author

Sophie Hannah is an internationally bestselling writer of psychological crime fiction, published in 27 countries. In 2013, her latest novel, The Carrier, won the Crime Thriller of the Year Award at the Specsavers National Book Awards. Two of Sophie's crime novels, The Point of Rescue and The Other Half Lives, have been adapted for television and appeared on ITV1 under the series title Case Sensitive in 2011 and 2012. In 2004, Sophie won first prize in the Daphne Du Maurier Festival Short Story Competition for her suspense story The Octopus Nest, which is now published in her first collection of short stories, The Fantastic Book of Everybody's Secrets.
Sophie has also published five collections of poetry. Her fifth, Pessimism for Beginners, was shortlisted for the 2007 T S Eliot Award. Her poetry is studied at GCSE, A-level and degree level across the UK. From 1997 to 1999 she was Fellow Commoner in Creative Arts at Trinity College, Cambridge, and between 1999 and 2001 she was a fellow of Wolfson College, Oxford. She is forty-one and lives with her husband and children in Cambridge, where she is a Fellow Commoner at Lucy Cavendish College. She is currently working on a new challenge for the little grey cells of Hercule Poirot, Agatha Christie's famous detective.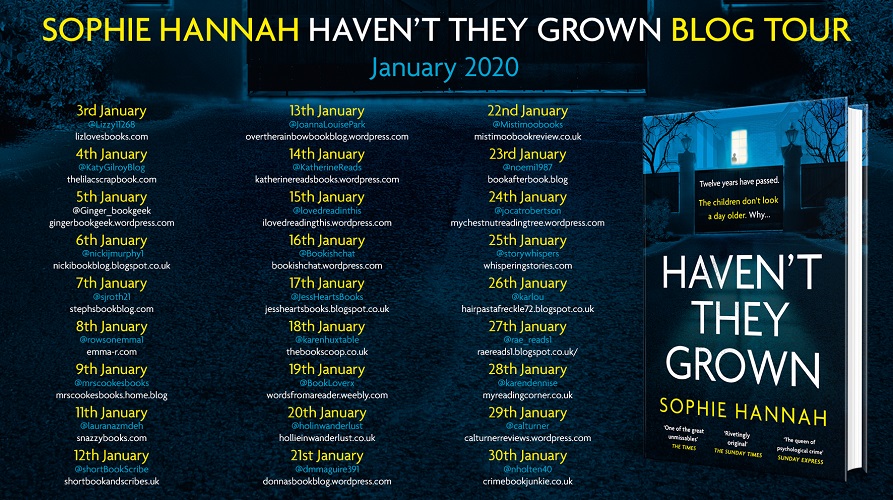 ---
What did you think of Haven't They Grown? Share your thoughts in the comment section below!
---
The above links are affiliate links. I receive a very small percentage from each item you purchase via these link, which is at no extra cost to you. If you are thinking about purchasing the book, please think about using one of the links. All money received goes back into the blog and helps to keep it running. Thank you.