Green Rising by Lauren James – Book Review
Green Rising by Lauren James – Book Review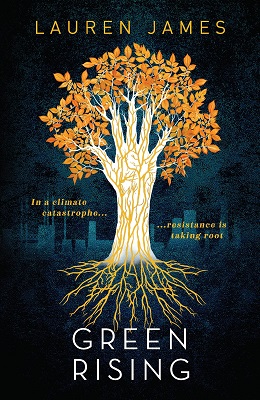 Green Rising
Author – Lauren James
Publisher – Walker Books
Pages – 384
Release Date – 21st September 2021
ISBN 13 – 978-1406384673
Format – ebook, paperback
Rating – 5 Stars
I received a free copy of this book.
This post contains affiliate links.


Synopsis
Set in a near-future world on the brink of ecological catastrophe, Lauren James's novel is a gripping, witty and romantic call to arms.
Gabrielle is a climate-change activist who shoots to fame when she becomes the first teenager to display a supernatural ability to grow plants from her skin. Hester is the millionaire daughter of an oil tycoon and the face of the family business. Theo comes from a long line of fishermen, but his parents are struggling to make ends meet.
On the face of it, the three have very little in common. Yet when Hester and Theo join Gabrielle and legions of other teenagers around the world in developing the strange new "Greenfingers" power, it becomes clear that to use their ability for good, they'll need to learn to work together. But in a time of widespread corruption and greed, there are plenty of profit-hungry organizations who want to use the Greenfingers for their own ends. And not everyone would like to see the Earth saved…
As they navigate first love and family expectations, can the three teenagers pull off the ultimate heist and bring about a green rising?
Green Rising is a YA novel that features a comprehensive look at how the earth could look in the future due to global warming/climate change. It also covers life on Mars and a strange phenomenon that is occurring globally as some teenagers gain the ability to grow plants from their skin.
Gabrielle Ventura is the first teenager on Earth to grow plants from her body. She decides to use her abilities to help climate activists help to stop global warming.
Teenager Theodore Carthew (Theo) has joined a team of plant growers who have been selected to travel to America and use their powers for what they think is good but working for Dalex Energy (an oil company), a company not know for their honesty.
Hester Daleport is one of the youngest managers working for Dalex Energy, well her father runs the company! She is in charge of the Greenfingers project as she too has the supernatural ability. She has been taken in by years of her father's speeches and appraisal of his company and can't see how they are contributing to the Earth's destruction.
With the Earth at near critic point, can this trio with the help of Greenfingers from around the world, reduce/reverse the effects that are killing the planet?
What I loved about this book was how touching, topical, and truthful it is. It is a book about standing up for what you believe in and questioning those who have the power to make a change. It is quite a political book and mildly dystopian (although the author will disagree with me).
Green Rising is a story showcasing what will happen to the world in the future and gives you enough ideas on what you can do now to help. It is actually an uplifting novel that doesn't focus on doom and gloom but rather on the ways to help.
The chapters are quite short and end with things such as transcripts of a podcast, Twitter messages, data, group chats, etc making the book very much in the now. These little things are what make the book stand out.
Overall it is a captivating read. I enjoyed it immensely and it held my interest the whole way through. It is insightful, eye-opening, and needs to be read.
Purchase Online From:
---
What did you think of 'Green Rising'? Share your thoughts in the comment section below!
---
The above links are affiliate links. I receive a very small percentage from each item you purchase via these links, which is at no extra cost to you. If you are thinking about purchasing the book, please think about using one of the links. All money received goes back into the blog and helps to keep it running. Thank you.
Like us on Facebook – Tweet us on Twitter – Pin us on Pinterest – Join us on Instagram