The Pink Beetle by Caspar Vega – Book Review
The Pink Beetle by Caspar Vega – Book Review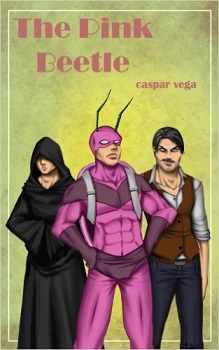 The Pink Beetle
Author – Caspar Vega
Publisher – Createspace
Pages – 102
Release Date – 8th August 2016
ISBN-13 – 978-1533429575
Format – ebook, paperback
Reviewer – Stacey
I received a free copy of this book
Post Contains Affiliate Links

An innocent young boy in grave danger! A private investigator with a strange past! An unlikely crossing of paths! A novella that will grab you by the balls!

The Pink Beetle is split into three parts, and the epilogue. We start of in part one – The Serpent, with a young boy called Bobby, racing to get his hands on the latest instalment of 'The Pink Beetle' comic.
He is obsessed with the Pink Beetle, and wants to be just like him, so much so that his mum makes him a pink costume so that he can go and fight crime, such as finding lost kittens, etc.
Then at the end of the first part we are introduced to something called 'The Melt', which we are led to believe is a yearly event where a piece of metal is taken from each family and melted. Though we soon discover that that is not the case.
Part two – The Hero, Born of Woman. We meet Fritz who is a PI and a bit of a ladies man, as he calls himself, and judging by the opening scene, it would seem so.
He is asked to investigate a possible extra marital affair, but all is not what it seems. We then see him having bad dreams of his childhood and dead brother, in a village he escaped from at the age of 14.
Part Three – The Soul of Time his Slave. Fritz decides that his time has come to take vengeance on those that killed his brother. In doing so he discovers that his sister has a son, and after he has taken his vengeance, he takes his nephew.
The Epilogue is told from the view of his nephew, who has now been living with Fritz for quite a while.
The book is very strange to say the least. I did enjoy part one, up until the end, which completely threw me. We don't exactly find out what 'The Melt' is. I gather that the village is some sort of cult town, and that every year someone is sacrificed via a procedure called 'The Melt' – possibly!! I actually thought that the book was going to be a children's story up until then.
There is no clue as to why this event happens, or if the villagers know they are part of some weird town.
Then when we meet Fritz, we walk straight into him in a compromising situation with a bridesmaid, and all thoughts of a children's book went out of the window. Fritz is actually a great character, even if he does like the ladies, and is forever hungry for them!!
His work as a PI baffled me. I'm not sure, apart from confirming that he is a PI, why the extra marital scene was added. I don't feel it added any relevance to the story.
When Fritz decides to go back to the village he left at 14 and take revenge, it comes quite sudden, and he's certainly had some training in how to shoot and throw knives. It is at this point in the book that it is revealed that the parts are all joined, and you are left to make your own mind up of how – was Bobby his brother?
The book is completely different to anything I have read before, and sometimes completely confusing. I would have liked to know more about this weird cult-like town, why it existed, who was running it, what was the melt, and why did it happen? All questions that have been left unanswered.
With a little more description of how, why and what all these weird scenes are about, and a few padded sections removed, The Pink Beetle could be a five star rated book. As it stands for me, there are too many questions that I needed answering, and for that reason I can only awarded it three stars.
Book Reviewed by Stacey
Purchase Links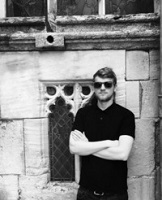 >From supernatural pulp to hard-boiled noir to musings on politics and pop culture, Caspar Vega surprises, disgusts and entertains across many genres.
Author Links