The Picture by Roger Bray – Book Review
The Picture by Roger Bray – Book Review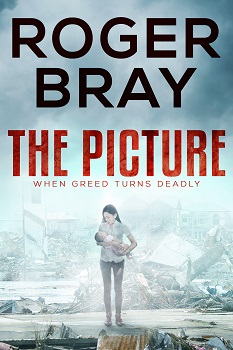 The Picture
Author – Roger Bray
Publisher – Roger Smith
Pages – 364
Released – 22nd April 2018
ISBN-13 – 978-0995351134
Format – ebook, paperback
Reviewer – Stacey
Rating – 4 Stars
I received a free copy of this book
Post contains affiliate links.
A warehouse in Japan used as an emergency shelter in the aftermath of the 2011 Tsunami. A distraught, young Japanese woman in dishevelled clothes sits on a box, holding her infant daughter. Ben, a US rescue volunteer, kneels in front of her offering comfort. They hug, the baby between them. The moment turns into an hour as the woman sobs into his shoulder; mourning the loss of her husband, her home, the life she knew.
A picture is taken, capturing the moment. It becomes a symbol; of help freely given and of the hope of the survivors. The faces in the picture cannot be recognised, and that is how Ben likes it. No celebrity, thanks not required.
But others believe that being identified as the person in the picture is their path to fame and fortune. Ben stands, unknowingly, in their way, but nothing a contract killing cannot fix.

Just after the Tsunami in 2011, a photo was taken of a man knelt talking with a young woman and child. The photo didn't show the faces of any of them, at the request of the man in the photo. Over the years people have tried to find out who the man was, but he didn't want recognition. He had gone out to Japan as part of a rescue team and believed that the story should always be about the disaster and not him.
However knowing that the faces were blurred another man sees his opportunity to make some money and declare himself the person in the picture, gaining him fame and lots of money. With a reputation that could be in tatters if the real man ever came forward, how far will this unsavoury person go to make sure he is never found out?
The Picture is a full-on, thought-provoking book. The story didn't take the route I was expecting, as at the beginning I did re-read the synopsis and double check that I was reading the right book as the plot regarding the photograph didn't begin a few chapters in.
In the beginning, we meet retired cop Ben who is taking a walk to his local convenience store reminiscing in his head about the old days and his motorbike. He then enters the store and quickly realises that the place is being robbed. Although he doesn't stand in the way of the robber, she shoots him, twice. Once in his shoulder and once just above his left eye. It is the second bullet which cases the most damage and ends up with Ben in hospital in critical care in an induced coma.
We then meet his estranged daughter Anna and his ex-police partner Paul who take it in turns to be at the hospital with Ben. During there regular coffee breaks together, Paul tells Anna about the picture. She is disappointed to learn that another man, Vince Brown, had declared himself the man in the photo when all along it was her father.
Vince isn't a man to be messed with though. He is money hungry and will stop at nothing to make sure he is never outed as a fraud.
I was hooked right from the beginning, even when I couldn't see how the photograph was going to come into play. The characters are just perfect and are so believable and likeable too – well apart from Vince, who was in way over his head.
I found myself immersed in the exciting plot. The thrill just never stopped, right up until the final page. It is cleverly written so that you are pulled into the characters lives, and become emotionally invested in them. It is also modern and relevant to today's society.
The Picture was just a pleasure to read. It was intriguing and held me captive right to the very end.
Reviewed by Stacey
---
Purchase online from:
---
About the Author

I have always loved writing; putting words onto a page and bringing characters to life. I can almost feel myself becoming immersed into their lives, living with their fears and triumphs. Thus, my writing process becomes an endless series of questions. What would she or he do, how would they react, is this in keeping with their character? Strange as it sounds, I don't like leaving characters in cliffhanging situations without giving them an ending, whichever way it develops.
My life to date is what compels me to seek a just outcome, the good will overcome and the bad will be punished. More though, I tend to see my characters as everyday people in extraordinary circumstances, but in which we may all find our selves if the planets align wrongly or for whatever reason you might consider.
Where it will take me I have no idea but I am going to enjoy getting there and if my writing can bring some small pleasure into people's lives along the way, then I consider that I will have succeeded in life.




---