The Saboteur by Simon Conway – Book Review
The Saboteur by Simon Conway – Book Review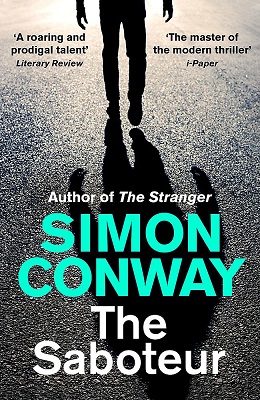 The Saboteur
Jude Lyon Book Two
Author – Simon Conway
Publisher – Hodder & Stoughton
Pages – 384
Released – 19th August 2021
ISBN-13 – 978-1529334296
Format – ebook, paperback, hardcover, audio
Rating – 5 Stars
I received a free copy of this book.
This post contains affiliate links.


Synopsis
The terrorist Guy Fowle has escaped from prison.
Jude Lyon of MI-6 has been saved from a Syrian ambush by his lover – and enemy? – Julia Ermolaeva.
A mysterious Russian has been murdered in London and his thumb cut off.
The Chancellor of the Exchequer has made an unfortunate social connection at a party, which he hopes he can keep secret.
And suddenly, the world is literally going up in flames.
Jude needs to start putting together the pieces of this jigsaw and quickly, because someone is putting into play a terrifying Russian plan to disable and destroy the UK. Once it has begun, it is designed to be impossible to stop.
Bad enough if that someone is the Russian government. Worse if it is the psychopathic genius Fowle, otherwise known as The Stranger.
Packed with stunning action, political intrigue, authentic tradecraft, emotion, shocks and nail-biting suspense, The Saboteur takes the spy thriller to new heights.
MI-6 Agent Jude Lyon is back in the explosive sequel to The Stranger, which we reviewed last August. This time, Jude is up against an enemy he had hoped would remain behind bars, the notorious Guy Fowle, murderer, narcissist, egocentric, and very, very powerful.
As the court proceedings start against Guy he is sprung from the courtroom in a sickening attack and freed by the Russians. This is a man who has the power to bring the country to its knees and with a body count last time of over two hundred people, this time his attacks would be much deadlier, costlier, and more vicious.
Jude Lyon knows that he has to stop Guy, but with a government fighting within itself and Guy having mighty allies is Jude capable of getting his man for a second time?
Once again author Simon Conway has written a gripping thriller that had me on the edge of my seat. I loved the first in the series, The Stranger, and couldn't wait to begin The Saboteur. It was everything I had been waiting for, and more. Whilst I always believe it is best to start a series at the beginning, the book does work as a standalone as snippets of information from the first are inserted throughout.
The plot draws you into the life of Jude Lyon, his missions, his target, his family, friends, and his lover. He knows just how deadly Guy Fowle can be. This is a man who tortured his sister, so killing innocent people wouldn't bother him one bit, and even give him pleasure.
I raced through the book which is full of action. I was intrigued where the author would take the story given that he is an ex-military officer, one who knows this world inside and out and I certainly wasn't disappointed, in fact, I was left stunned.
The Saboteur has everything you would want from a political thriller. It is twisty, keeps you guessing, and is finely detailed. The short chapters keep the pace fast and the suspense had me unable to put the book down for more than a few minutes before needing to be back in the thick of it. This is a must-read.
Purchase Online From:
---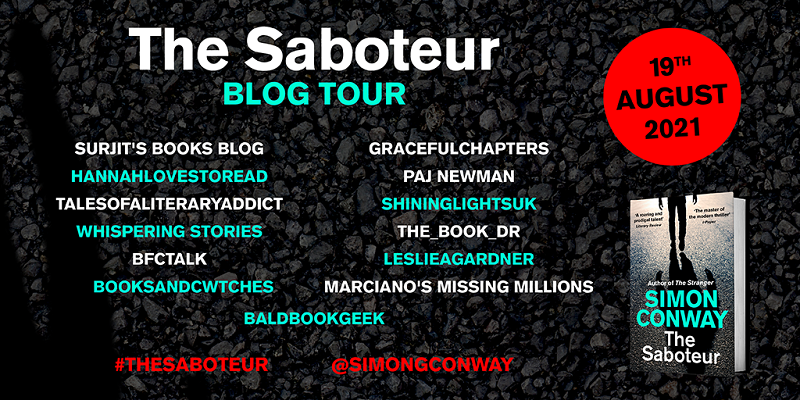 ---
What did you think of 'The Saboteur'? Share your thoughts in the comment section below!
---
The above links are affiliate links. I receive a very small percentage from each item you purchase via these links, which is at no extra cost to you. If you are thinking about purchasing the book, please think about using one of the links. All money received goes back into the blog and helps to keep it running. Thank you.
Like us on Facebook – Tweet us on Twitter – Pin us on Pinterest – Join us on Instagram