The Stranger by Simon Conway – Book Review
The Stranger by Simon Conway – Book Review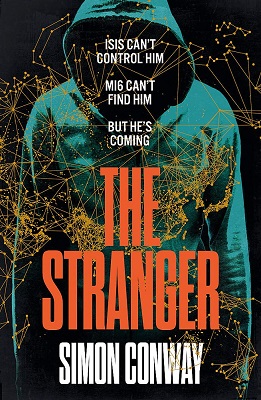 The Stranger
Author – Simon Conway
Publisher – Hodder & Stoughton
Pages – 352
Released – 13th August 2020
ISBN-13 – 978-1529324280
Format – ebook, paperback, hardcover, audio
Review by – Stacey
Rating – 4.5 Stars
I received a free copy of this book.
This post contains affiliate links.


ISIS can't control him.
MI6 can't find him.
But he's coming…
Things change quickly in the world of espionage and clandestine operations. Jude Lyon of MI6 remembers the captured terrorist bomb-maker. He watched him being flown off to Syria, back when Syria was 'friendly'. No-one expected him to survive interrogation there.
Yet the man is alive and someone has broken him out of jail.
Bad news for the former foreign secretary who authorised his rendition. And Jude's boss Queen Bee who knew he wasn't a terrorist at all, but an innocent bystander. Now she calls Jude back from a dangerously enjoyable mission involving a Russian diplomat's wife.
He has a new job: close down this embarrassment. Fast.
But embarrassment is only the beginning. Someone is using the former prisoner to front a new and unspeakably terrifying campaign. Someone not even ISIS can control.
He is like a rumour, a myth, a whisper on the desert wind. But he is real and he is coming for us …
He is the genius known only as …
The Stranger.
From the corridors of Westminster to the refugee camps of Jordan, the back streets of East London to the badlands of Iraq, The Stranger is a nerve-shredding journey of suspense as Jude Lyon pieces together the shape of an implacable horror coming towards him – and a conspiracy of lies behind him.

MI6 Agent Jude Lyon is called back from a mission which included seducing a Russian Diplomats wife to sort out a problem that shouldn't have been raising its ugly head all these years later.
Nasruddin al-Raqqah, nicknamed 'The Engineer' was captured years ago accused of killing twenty-five British Soldiers in an ambush in Basra. He was sent on a flight from Iraq to Syria with his pregnant wife to be interrogated and most likely killed for his crimes, with Jude overseeing the departure, which was written off by the then Foreign Secretary.
Present-day and someone has put a great big hole in a Syrian prison and taken one of the prisoners, MI6 believe that the prisoner was Nasruddin al-Raqqah and that the affairs of the past are about to come back to haunt them, especially when a journalist gets her hands on a copy of the transfer papers for Nasruddin.
But was Jude told the truth all those years ago about Nasruddin's involvement in the killing of the soldiers, and why has someone taken the trouble to break him out of the prison now? Are 'The Engineer' and 'The Stranger' one and the same. One thing is for sure, 'The Stranger' is coming and he's not going to stop until he finishes what he's started.
The Stranger is a gripping political thriller that spans multiple countries. Jude was enjoying his latest assignment with the Russian Diplomats wife when he was pulled away with immediate effect and told to never see or contact her again and given his new task.
His commanding officer known as Queen Bee is angry. This whole mess with The Engineer suddenly coming to light has the government on tenterhooks and they need someone to clear it up now and fast. Jude was there at the time of Nasruddin's capture and transfer to Syria and so he is the best man for the job.
The plot contains a lot of detail of the handling of the case and the methods used to find out the information that was needed, including interrogations and following people who might lead them to the 'bigger fish'.
You can tell from the way the book has been expertly written that the author used to be in the military and that he knew his stuff. I enjoyed the pace of the book which moved with the scenes, some slow, some fast. I liked the short chapters which always gives action books an edgy feel and Jude Lyon was a very likeable character too, it was nice to see the way he viewed the world and the situations he found himself in.
Overall, this is a must-read for readers who love a good spy/espionage/political thriller. It has everything you could want including the usual twist, turns, and red herrings. Multiple layers you will want to peel back and scenes that will make you question the chapters you had previously read and which side the characters truly stand.
Book Reviewer – Stacey
---
Purchase online from:
---
About the Author

Simon Conway is a former British Army officer and international aid worker. With The HALO Trust and later as director of Landmine Action he cleared landmines and unexploded bombs in Africa, Asia and the Middle East.
As Co-Chair of the Cluster Munition Coalition he successfully campaigned to achieve an international ban on cluster bombs.
He is currently working as Director of Capability for The HALO Trust. He lives in Glasgow with his wife the journalist and broadcaster Sarah Smith. He has two daughters.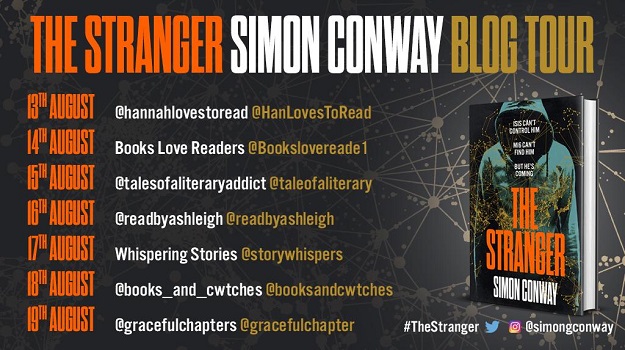 ---
What did you think of The Stranger? Share your thoughts in the comment section below!
---
The above links are affiliate links. I receive a very small percentage from each item you purchase via these link, which is at no extra cost to you. If you are thinking about purchasing the book, please think about using one of the links. All money received goes back into the blog and helps to keep it running. Thank you.
Like us on Facebook – Tweet us on Twitter – Pin us on Pinterest