The Sideman by Caro Ramsay – Book Review
The Sideman by Caro Ramsay – Book Review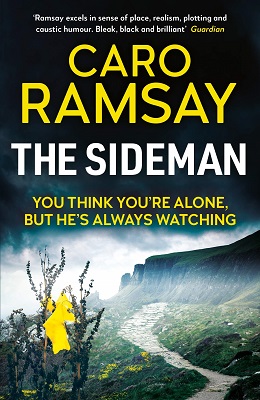 The Sideman
Anderson and Costello Thrillers
Author – Caro Ramsay
Publisher – Black Thorn
Pages – 352
Released – 7th May 2020
ISBN-13 – 978-1838851019
Format – ebook, paperback, hardcover, audio
Review by – Clive
Rating – 3.5 Stars
I received a free copy of this book.
This post contains affiliate links.


Inside a beautiful Victorian family home in Glasgow's West End, a mother and her young son are found brutally murdered. DI Costello is furious and knows exactly who did it, George Haggerty, the husband and father. The only problem is that Haggerty has a cast-iron alibi – the police themselves caught him speeding on the A9 at the time of the murders. But Costello can't let it go. Determined to expose Haggerty as a ruthless killer, she's gone solo.
DCI Colin Anderson has no time to ponder his partner of twenty years going rogue, as his own cases are piling up. But Costello's absence becomes increasingly worrying. Has she completely disappeared following the tracks of a dangerous man?

The Sideman is the tenth book in Caro Ramsay's Anderson and Costello series and the first that I have read. They were previously published by Severn House but are now available as ebooks and paperbacks through Black Thorn.
It may have helped if I had read some of her previous novels because I struggled in the first few chapters to link the characters and the action. To her credit Caro Ramsay did her best to help me by using bold print to highlight a change of location or time and by including a list of central characters at the beginning. Fortunately the easy style and lively action carried me through until I could piece together most of the different strands.
Although I have never travelled up the west coast of Scotland I enjoyed the settings which Ramsay describes well, emphasising the toughness of the terrain and the climate. Some of the characters I found believable but the two principal characters and their actions left me a bit cold. To be fair, Costello was missing for most of the book so there was little chance to warm to her. Anderson I found very dry despite the action following him for most of the book.
By the end of the book I could appreciate how cleverly the author had woven together the various storylines although I was not convinced that all my questions had been answered.
So will I read another of Caro Ramsay's books? The answer is yes, for the scenic descriptions and to give Anderson and Costello a chance to convince me of their worth. I have awarded The Sideman a sitting-on-the-fence three and a half stars.
Book Reviewer – Clive
---
Purchase online from:
---
About the Author

I was raised on the south side of Glasgow, around the Govan area. I think I am the only person I know who was drummed out of the Brownies for insubordination – badge-less! The only badge I came close to was Pet-care but my mum objected to me taking my wormery to bed.
I never considered myself good at English at school, being rather more talented at the sciences, such as maths and chemistry. I was the younger sister of a much brainier elder sister and choose my exam subjects just to avoid her. But even then, science threw up many interesting facts – methods of poisoning, electrocution, death by a blunt object by working out that F=MA versus skull. Most of these were put to use in trying to dispose of the PE department.
Having turned down places at Veterinary and Medical school, I was the youngest person ever to graduate from the British School of Osteopathy in London, where rather than being a valued member of a Primary Care Team, my job seemed to consist of translating the Taggart episode that has been on the night before.
Thus I became fluent in both English and Glaswegian. Upon graduation, I immediately returned to Glasgow to establish my own practice, which even in the early days included the treatment of animals. It's far better than being a vet, as you don't have to end either their life or their sex life.
It was while recovering from a very bad back injury, I decided to put pen to paper and started the scribblings that was to become Absolution.



---
What did you think of The Sideman? Share your thoughts in the comment section below!
---
The above links are affiliate links. I receive a very small percentage from each item you purchase via these link, which is at no extra cost to you. If you are thinking about purchasing the book, please think about using one of the links. All money received goes back into the blog and helps to keep it running. Thank you.
Like us on Facebook – Tweet us on Twitter – Pin us on Pinterest