A Vicarage Reunion by Kate Hewitt – Book Review
A Vicarage Reunion by Kate Hewitt – Book Review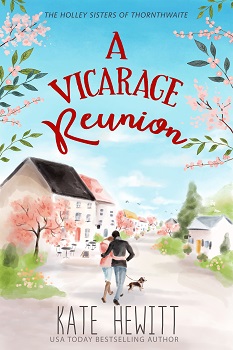 A Vicarage Reunion
The Holley Sisters of Thornthwaite Book Two
Author – Kate Hewitt
Publisher – Tule Publishing
Pages – 189
Released – 2nd February 2018
Format – ebook
Reviewer – Stacey
Rating – 4 Stars
I received a free copy of this book
Post contains affiliate links.
Welcome to Thornthwaite, a quaint village tucked up in England's beautiful but rainy Lake District, where homecomings and surprises await the four Holley sisters…
Esther Holley, the eldest in the family, has always had her life firmly in control until a miscarriage knocks her off course. Two months later, still emotionally spinning, she separates from her husband Will, a sheep farmer and man of few words and moves back in with her parents.
Life as a singleton thirtysomething living in her parents' house is miserable, but Esther is determined to re-boot her life, including going on a few unfortunate dates. She's shocked when tight-lipped Will shows up on her doorstep determined to woo her back. They've been married for seven years, but Will wants to return to the beginning, dating and getting to know each other again.
New challenges face them as they start over–and new chances too. Can Esther and Will save their marriage, especially when faced with the hardest decision of all?

A Vicarage Reunion is the second book in 'The Holley Sisters of Thornthwaite' series. I reviewed the first book, 'A Vicarage Christmas', in October last year and loved it. I couldn't wait to get my hands on this book.
The books are set in Thornthwaite, a little village in the Lake District, and follow the lives of the daughters of Roger (who was the local vicar), and Ruth Holley. The last book focused on Anna Holley, who suffers with social anxiety. This story follows her older sister Esther, who, after suffering a miscarriage decides that she has had enough of her life, and walks out on her husband Will.
However, farmer Will isn't going to be easy to let go of. He wants his wife back and will do anything to win her heart again.
What I like about this series is that whilst the books are sweet, easy reads, they also contain hard hitting issues. The first dealt with Anna trying to come to terms with her past and learning how to handle her social anxiety. This book is very much about Esther and how she has reacted to her miscarriage. Whilst others can see that she is grieving, she is unwilling to accept that and wants to just push it to one side, but by doing that she is causing herself more problems, including pushing her husband away.
I would advise reading book one before this book, as it contains a lot of information that will help you to fully understand this book. It is also great to catch up with some of the characters again from A Vicarage Christmas.
The book is quite short, so won't take you long to get through, but Ms. Hewitt has certainly packed a lot into those pages. Her writing style flows naturally, and she knows how to create beautiful visual scenery with her words. This is a book that you can dip in and out of whenever you have a few minutes spare, or sit and read in one go, either way you will get pure enjoyment. I can't wait to read book three now.
Reviewed by Stacey
---
Purchase online from:
---
About the Author

Kate is the USA Today-bestselling author of over 40 books of women's fiction and romance. She is the author of the Hartley-by-the-Sea series, set in England's Lake District and published by Penguin. She is also, under the name Katharine Swartz, the author of the Tales from Goswell books, a series of time-slip novels set in the village of Goswell. Other series include the Emigrants Trilogy, the Amherst Island Trilogy, and the Falling For The Freemans series.
She likes to read romance, mystery, the occasional straight historical and angsty women's fiction; she particularly enjoys reading about well-drawn characters and avoids high-concept plots.
Having lived in both New York City and a tiny village on the windswept northwest coast of England, she now resides in the English Cotswolds with her husband, five children, and an overly affectionate Golden Retriever.





---