North and South by Elizabeth Gaskell – Book Review
North and South by Elizabeth Gaskell – Book Review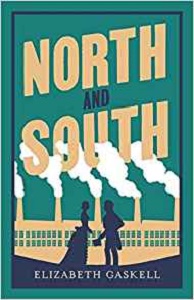 North and South
Author – Elizabeth Gaskell
Publisher – Alma Classics
Pages – 480
Released – 22nd February 2018 (Originally released in 1855)
ISBN-13 – 978-1847497161
Format – ebook, paperback, hardcover, audio
Reviewer – Clive
Rating – 4 Stars
I received a free copy of this book
Post contains affiliate links.
Having grown up in London and rural southern England, Margaret Hale moves with her father to the northern industrial city of Milton. She is shocked by the poverty she encounters and dismayed by the unsympathetic attitude of the textile-mill owner John Thornton, whose factory workers are engaged in an acrimonious strike. Against this backdrop of social unrest, the relationship between the two is tumultuous, and it takes further upheaval and tragedy for them to see each other in a different light.
First serialized in Dickens's magazine Household Words in the same period as Hard Times, North and South shares its famous counterpart's concern with the inequality and hardship generated by the Industrial Revolution in northern England, while at the same time creating one of the nineteenth century's most memorable and engaging female protagonists in Margaret Hale.

On starting the book my initial thoughts were, how am I going to get through this? Four hundred and seventy eight pages of extremely wordy nineteenth century English in what was inevitably going to be a romance.
My mood soon changed. After a while I became attuned to the writing style and I realised that at the heart of this book is a social account of the time written by one who was there.
Elizabeth (Mrs) Gaskell drew heavily on her own first-hand experience when she created her heroine Margaret and she did it well.  She expertly describes the Victorian era with a sheltered upper class who look down on "people of trade" who in turn rely on hard work and expertise from the working class. She covers poverty but also recognises that working in the new factories can give a better life than farm labour, provided they avoid excessive drinking.  One thing that all classes had in common was a lack of knowledge of the others.
Throughout I found myself thinking about Mrs Gaskell's intended audience who were likely to be middle and upper classed people, predominately female, with plenty of leisure time.  She certainly must have educated most of her readers.
I personally could have done without the romantic side of the book although I acknowledge that many of her readers would have been attracted by this.  These stories were drawn out and predictable with the usual misunderstandings, compounded by a lack of communication and openness.
We are also treated to a large number of sub-plots, all of which I found enjoyable. These would have helped to keep the reader enthralled; essential when the book was serialised in Household Words where there would have been strong pressure to keep the tension going.
Her characters mirrored real life and appeared to be woven from family and other contacts. I was warmed by Bessie's appreciation of the simplest of kindnesses, I was concerned by Edith's weakness and I struggled alongside Mr Hale as he wrestled with his calling.
North and South is full of literary and cultural references showing that Mrs Gaskell was well read.  Those that I did not recognise were explained by Alma's comprehensive notes and extra material at the end of the book.
As I said above, North and South by Elizabeth Gaskell will prove hard work for most modern readers but your dedication will be rewarded by this classic historical novel. I have awarded it four stars.
Reviewed by Clive
---
Purchase online from:
---
About the Author
Elizabeth Cleghorn Gaskell, (née Stevenson; 29 September 1810 – 12 November 1865), often referred to as Mrs Gaskell, was an English novelist, biographer, and short story writer. Her novels offer a detailed portrait of the lives of many strata of Victorian society, including the very poor, and are of interest to social historians as well as lovers of literature.
Her first novel, Mary Barton, was published in 1848. Gaskell's The Life of Charlotte Brontë, published in 1857, was the first biography of Brontë. In this biography, she only wrote the moral, sophisticated things in Brontë's life, the rest she left out, deciding that certain, more salacious aspects of her life were better kept hidden. Some of Gaskell's best known novels are Cranford (1851–53), North and South (1854–55), and Wives and Daughters (1865).
---