The Last Child of Leif by Chris Pridmore – Book Review
The Last Child of Leif by Chris Pridmore – Book Review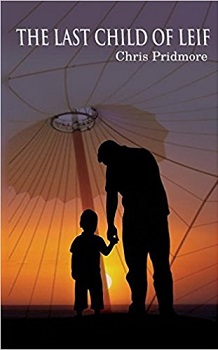 The Last Child of Leif
Author – Chris Pridmore
Publisher – Rowanvale Books
Pages – 410
Released – 31st August 2016
ISBN-13 – 978-1910832516
Format – ebook, paperback
Reviewer – Julie
Rating – 4 Stars
I received a free copy of this book
Post contains affiliate links
Forced from my home, I find myself fleeing from the evil forces that killed my father. My mother and Sebastian, our protector, are by my side — but for how long?
I soon find myself travelling with a circus led by a kindly man called Konrad, but my young mind doesn't know who to trust. Sebastian seems less at ease with every passing day. I'm struggling to cope with the tragedy that has befallen me, and the world now seems a lot more dangerous than I had ever imagined.
My name is Prince Valiant, and I am a Child of Leif.

'The Last Child of Leif' is a fantasy adventure by British author, Chris Pridmore.  We travel to an alternative Prussian Empire in the middle of the 19th Century where we meet characters who use bows and arrows and also have the benefit of self-propelling traction locomotion.
The narrative is mainly written in the first person, through the eyes of Prince Valiant and we join the tale when he is five years old.  Valiant and his mother the Queen are being protected by Sebastian, who is head of her personal guard.
The action-packed opening, with our main characters fleeing for their lives, will definitely draw the audience in.  I found the burgeoning relationship between the Queen and her protector, a little disturbing as it seemed to be in full view of an impressionable child. However, that is a drawback when writing in the first person. I was quite pleased that particular thread was brief and henceforth, Sebastian becomes pivotal to Valiant's survival, acting as his guardian throughout the remainder of the book. This is very well depicted in the cover design.
The plot develops with the introduction of some multi-faceted secondary players, in the form of the circus cast and I was delighted that the author successfully created a myriad of colourful characters to advance the story.
I found some of the prose slightly incongruous; this was a historical novel therefore terms such as 'trouser furniture' and 'bring your kid to work day' seemed a little out of place.
Essentially this is tale of good versus evil, bringing in elements of precognition, sorcery and witchcraft, on a backdrop of revolution which adds substance to the storyline.  After the troupe travels to Obran Osh, it seems danger is never far behind. Almost everyone is trying to capture The Last Child of Leif and if you stick with the story, you'll be rewarded with an explanation for this.
This tale has been well-constructed and the pace is fairly consistent.  At 450 pages, it is a trifle on the long side and I wonder if some of the linking story, when the circus is in transit, could have been truncated.  However to his credit, the author has tried to keep his audience engaged by using a variety of literary devices to pose hypothetical moral questions along with some lovely descriptive sections and a smattering of irony and humour. By and large, I think this just about works.
I read across many genres and whilst fantasy can often be formulaic, this book offers something a little different in places and I congratulate Chris Pridmore on his vivid imagination. Whilst there are some battle scenes, there certainly isn't an over-reliance on violence.  This novel will appeal to anyone who likes a supernatural action adventure and I award four well-deserved stars.
Reviewed by Julie
---
Purchase online from:
---
About the Author

Chris Pridmore was born and raised in Harlow, Essex. He moved to Scotland to study chemistry at the University of St Andrews, and now lives in Llandudno, North Wales. In the past, Chris often thought about writing a book but always considered it a pipe dream. It wasn't until he suffered a serious head injury that he decided it was time to stop dreaming and start doing. Three years later, after somehow finding time to write around work, getting a black belt in Karate, getting married and preparing for his second child, the first draft of his first book was finished.





---