The Adventures of Harry Morgan by Clabe Polk – Book Review
The Adventures of Harry Morgan by Clabe Polk – Book Review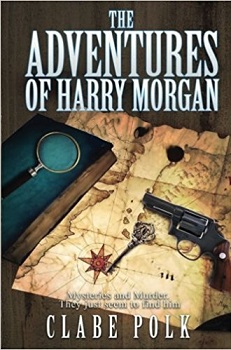 The Adventures of Harry Morgan
Volume One
Author – Clabe Polk
Publisher – Createspace
Pages – 310
Released – 21st November 2017
ISBN-13 – 978-1979277617
Format – ebook, paperback
Reviewer – Clive
Rating – 3.5 Stars
I received a free copy of this book
Post contains affiliate links
Harry Morgan is not an average retiree. Trouble sticks to Harry like a magnet! Here are three interlocking fast-paced crime/action novellas starring Harry Morgan, an aging adventurer who attracts trouble wherever he goes.
Collegial Conspiracy: What would you do if a dying friend asked you help him rob a bank…not just any bank, but the bank where you do business…and do it like Bonnie and Clyde? And then things really get complicated when the friend's son, Tony, shows up.
Emilio: Did Laurel Jackson commit suicide or was she murdered? Worse, did Tony Middleton do it? Harry finds himself playing detective, smack dab in the middle of an investigation rubbing up against the bank robbery he is working so hard to forget. Can he solve the mystery, free Tony and get away clean?
The Pirates of Cayo Pelau: Harry's heard all the stories about pirates, old and new, along the Florida coast, As he teaches his friends to sail his new boat, he expects mosquitoes and sand gnats but he never expected to land in the midst of a slave smuggling ring. Now he must find a way to free the captives, keep his friends safe and put the smugglers out of business…before it's too late.

Clabe Polk, can that really be his name, already has several self-published works to his name including the Mike Eiser detective series. With The Adventures of Harry Morgan he has combined his work experience, his local knowledge and his interests to produce three quite different novella length stories based around a central character Harry Morgan. Harry is a retired businessman, comfortably well off and with energy to spare.
The stories were a little lightweight and twee; I would like to say that I did not like them but I cannot. The author's easy to read style kept my interest and the three stories were read in my quiet moments over three busy days.
For those of you who are familiar with daytime TV the best comparison I can make is with the Murder She Wrote series; cheesy and simple but well done and worryingly addictive.
The first story, Collegial Conspiracy frustrated me in that I constantly wanted to shout "Don't be so stupid" as the two bumbling lead characters got themselves into every increasing danger.
Emilio had a better plot although it was somewhat far-fetched in that the defence lawyers and the Police would allow friends and relatives of the accused to voluntarily help in the investigation.
The final story, The Pirates of Cayo Pelau had for me the added excitement of some sailing which can never be a bad thing. Again the lead characters risked life and limb for a bit of an adventure although everything turned out well in the end, as you would expect.
So should I recommend The Adventures of Harry Morgan? The answer is a qualified yes. If you are looking for an in depth read then this is not for you but if you are looking for three short and simple reads with a few smiles then this book could be for you. Sitting somewhat on the fence I have awarded three and a half stars.
Reviewed by Clive
---
Purchase online from:
---
About the Author

Clabe Polk is into a second career as a fiction author. Retiring after more than thirty-seven years of professional environmental protection, including criminal law enforcement and criminal law enforcement training, Mr. Polk has taken his professional experience, scientific background, a lifetime of practical skills from designing and building houses to music, his love of reading, research and writing and combined them into action stories about real people told in a tongue-in-cheek style all his own.
He currently lives in Powder Springs, Georgia with his wife, two daughters and the family's cockerpoo named 'Annie'.
Clabe's creation, Poplar Bluffs, Georgia, hometown of Detective Mike Eiser is a community all its own. Margie over at Bertie's Café is never without a friendly cup of coffee or a glass of sweet tea and she has her ears tuned to take in whatever you're talking about, so y'all come see us!