Hide by Nell Pattison – Book Review
Hide by Nell Pattison – Book Review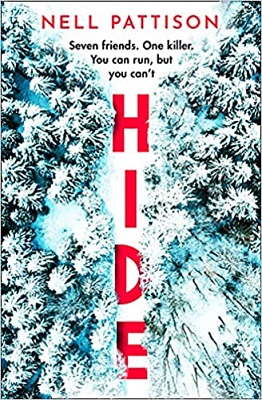 Hide
Author – Nell Pattison
Publisher – Avon
Release Date – 9th December 2021
Pages – 368
ISBN 13 – 978-0008468026
Format – ebook, paperback, audio
Star Rating – 4.5
I received a free copy of this book.
This post contains affiliate links.

Synopsis
Seven friends. One killer. You can run, but you can't hide…
It's Boxing Day and your friendship group has planned a hike.
You know tensions are running high. You've heard the rumours flying around.
But this trip is a chance for you to reconnect.
As you head into the reserve, everyone is quiet. It almost feels like you've imagined the rift.
But as the sun sets, you hear a gun shot.
One of your group is dead.
And someone you know killed them…
A fast-paced, edge-of-your-seat thriller with a killer twist you just won't see coming. Fans of Ruth Ware, Lucy Foley and T.M. Logan will be totally gripped from the very first page.
On reading the synopsis my first thoughts were that I've read this plot before and I have. Nell Pattison's twist is that in previous books the setting has been in far more dangerous areas than an East Midlands nature reserve. But then the greatest suspense stories are so often set in locations that are expected to be comfortable and safe.
Interestingly the book is posted on Goodreads as Nowhere to Hide.
In Hide, Nell Pattison has selected seven assorted people who outwardly have little in common other than their shared love of nature. The exceptions are of course the sisters, Lauren and Emily, who have recently reunited after being estranged for several years. What all seven have in common is that they each have at least one secret that they would like to keep from the rest of the group.
Of the seven protagonists, one for me really stood out. Nell Pattison has used her personal experiences of deafness to create Emily who, despite no natural hearing and being raised in care, has become a successful entrepreneur.
The tale is told in the first person, rotated among the group chapter by chapter. The author clearly tells us at the beginning of each chapter whose perspective we are following. This way we get to know each person very well and we are initially able to view the action through everyone's eyes. Of course, the characters are not perfect and some have secrets that they will not even share with us!
Ms Pattison has a writing style that makes for easy reading and as the gentle afternoon stroll became increasingly stressful I found that I was well and truly hooked. I was impressed with how many dangerous factors the author could find in those few acres of English countryside.
As the story develops the revealed secrets get more serious and people are forced to take strong action. There are also some fascinating little twists, some of which you may anticipate.
I can see that Nell Pattison has previously published three books featuring Paige Northwood and has a fifth novel called Friends Don't Lie expected in September. If they match the quality and entertainment of Hide then they are to be recommended. I have awarded an almost perfect four and a half stars.
---
Purchase Online:
Nell Pattison

Nell Pattison is the USA Today bestselling author of THE SILENT HOUSE, SILENT NIGHT and THE SILENT SUSPECT, the crime thriller series featuring British Sign Language interpreter Paige Northwood.
After studying English at university, Nell Pattison became a teacher and specialised in Deaf education. She has been teaching in the Deaf community for 14 years in both England and Scotland, working with students who use BSL. Nell began losing her hearing in her twenties. She lives in North Lincolnshire, England, with her husband and son.
Author Links:
---
The above links are affiliate links. I receive a very small percentage from each item you purchase via these links, which is at no extra cost to you. If you are thinking about purchasing the book, please think about using one of the links. All money received goes back into the blog and helps to keep it running. Thank you.